Alice Springs to Uluru via MacDonnell Ranges Tours 5 days
Alice Springs to Uluru Tours, Mereenie Track Palm Valley, MacDonnell Ranges 
Tours 5 days via Simpson's Gap, Palm Valley, Hermannsburg,
MacDonnell Ranges including Ormiston Gorge, Larapinta Trail, Glen Helen, Gosse Bluff,
Mereenie Loop, Kings Canyon, Kata Tjuta (Olgas), Uluru (Ayers Rock), Aboriginal rock art, visit Aboriginal art centres. REVERSE available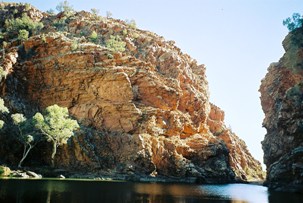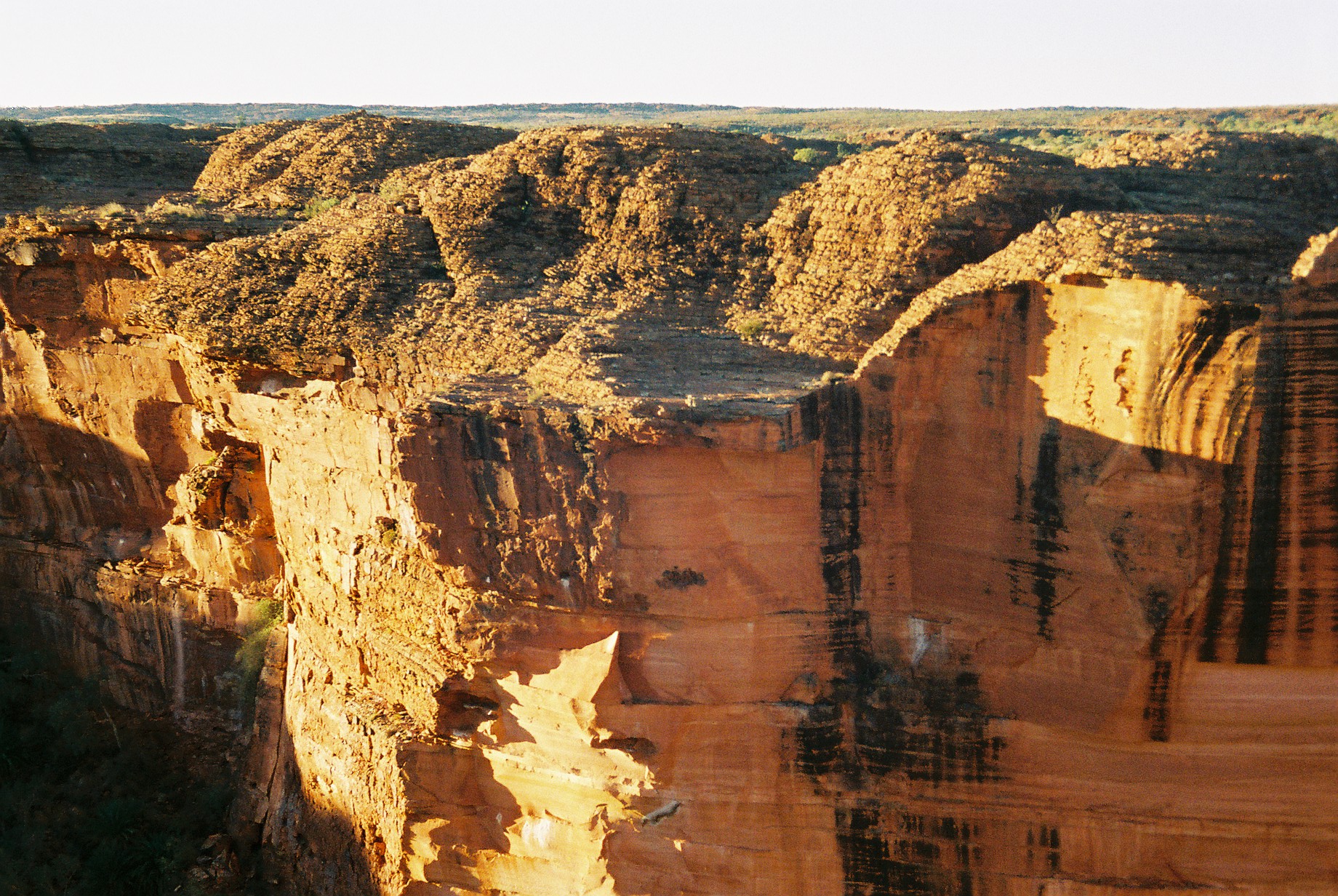 5 day Alice Springs to Ayers Rock / Uluru via MacDonnell Ranges & Mereenie Loop Track via Simpsons Gap, Palm Valley, Hermannsburg, Kings Canyon, Gosse Bluff & MacDonnell Ranges Tours – Arrive Alice Springs day prior departure, includes a welcome to country, 2 Uluru sunsets, 1 sunrise, 2 nights Uluru, 1 night Kings Canyon, 1 night Glen Helen, ends Uluru after breakfast day 5 in time for flights. Tour Code MAU5 – Please ASK
DEparts on-demand or Please ASK –
Check Availability or Book Now 
5 day Uluru / Ayers Rock to Alice Springs via MacDonnell Ranges & Mereenie Loop Trackv ia Simpsons Gap, Palm Valley, Hermannsburg, Kings Canyon, Gosse Bluff & MacDonnell Ranges Tours – Arrive Uluru Tuesday, includes a welcome to country, 2 Uluru sunsets, 1 sunrise, 2 nights Uluru, 1 night Kings Canyon, 1 night Glen Helen, ends Alice Springs Friday evening – Tour Code MUA5 Commences Tuesdays from Uluru or dates as booked (REVERSE option available) – Please ASK
– Check Availability or Book from Calendar below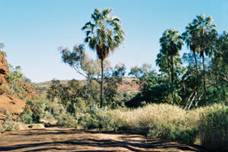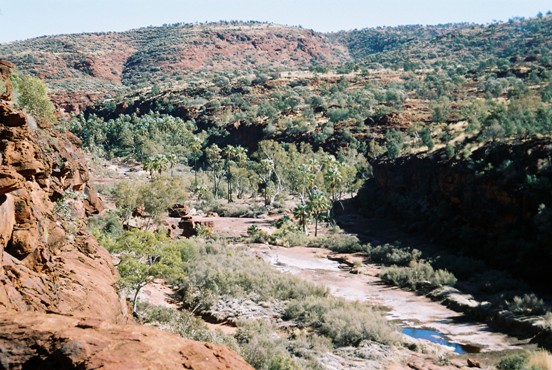 Below describes our 5 Day MacDonnell Ranges Tour. An 8 day tour  is also available click link. The 8 day tour and 5 day tours travel some similar areas – except the 8 day includes 1st night in Alice Springs (or Uluru) hotel, 1 overnight at Palm Valley, 1 extra night (2 total) at Glen Helen allowing more time to explore the MacDonnell Ranges and to visit Redbank Gorge, Mt Sonder and visit Hassts Bluff and Papunya Aboriginal Art Centre.

Relax and Revitalise your creative self in the clear and nurturing energies of the Central Deserts of Australia's Heartlands …  This journey is an opportunity to reflect, honour and develop creative relationships with the land, each other, and with the traditional Aboriginal caretakers, songmasters, singers and dancers from the land we travel. We experience extraordinary landscapes, and sacred sites, walk and relax in these places and share each participants unique gifts of creativity and place in creation …. with the aim of having fun, and enriching all life.

5 Day Tour Details – Alice Springs to Uluru
Check Availability or Book Now  Reverse direction is opposite of below ie Uluru to Alice Springs
Day 1– We depart Alice Springs 730am and head west on the Larapinta Drive for an easy walk in the peaceful energies of Simpsons Gap – where we may meet the cute but endangered Black Footed Rock Wallabies. We travel on to visit the Hermannsburg Mission, the source of so many beautiful artworks of the central deserts, then wind our way up the ancient Finke River river bed to Palm Valley where the artist Albert Namatjira's paintings were so inspired.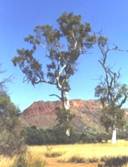 We take a walk in this eerie and ancient Palm Valley, viewing Livingstonia palm trees and unique landforms only seen here – watch out for dinosaurs. Leaving Palm Valley, we drive back down the riverbed, following the Caterpillar songline of the MacDonnell Ranges – and an optional swim before dinner at the resort. Here is a great spot to witness the regions magnificent Mt Sonder's changing colours at sunset. Overnight at Glen Helen Gorge & resort. L. Dinner own cost at resort restaurant
Day 2 – After a tasty breakfast, we take a peaceful and reflective walk in the beautiful Ormiston Gorge by the waterhole formed by the Finke River. More wallabies here too ! Leaving the MacDonnell Ranges behind, we head west then south on the 4WD Mereenie Loop track through spectacular Central Deserts landscapes via sweeping views from Tyler's Pass of the comet crater known as Gosse Bluff(Tnorala). We enter the crater and spend some quiet time here with a short walk to a lookout where the dimensions of time, space and your place in the universe can be appreciated in a new perspective. After marvelling at nature's power, we travel on via the Gardiner Range, the Camels Hump and Katapata Pass to our Kings Canyon Resort for the evening.BLD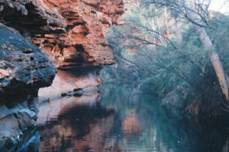 Day 3- Our time for morning walks at Kings Canyon allows for the 3 hours (6 km) over the top via the "Garden of Eden" and the spectacular north and south walls or a shorter walk option is also available in the valley floor. After a delicious and well-earned lunch we cruise the 3 hour drive on to Uluru, visiting Curtin Springs and viewing Mt Connor (Attila) before arriving at Yulara resort and Uluru sunset viewing. Overnight Uluru. BL Dinner own cost at resort restaurant.

Gosse Bluff – this comet crater dominates the landscape. We enter this powerful Earth energy impact centre.
Day 4 – An early start for Uluru at sunrise and a nearby breakfast. Opportunity for morning walk and quiet time at sacred waterholes and gorges. Experience a "welcome to country" and an introduction to the area at the local Aboriginal Anangu cultural centre. After lunch and a relax, enjoy an afternoon Kata Tjuta (Olga's) walk. Overnight Uluru BLD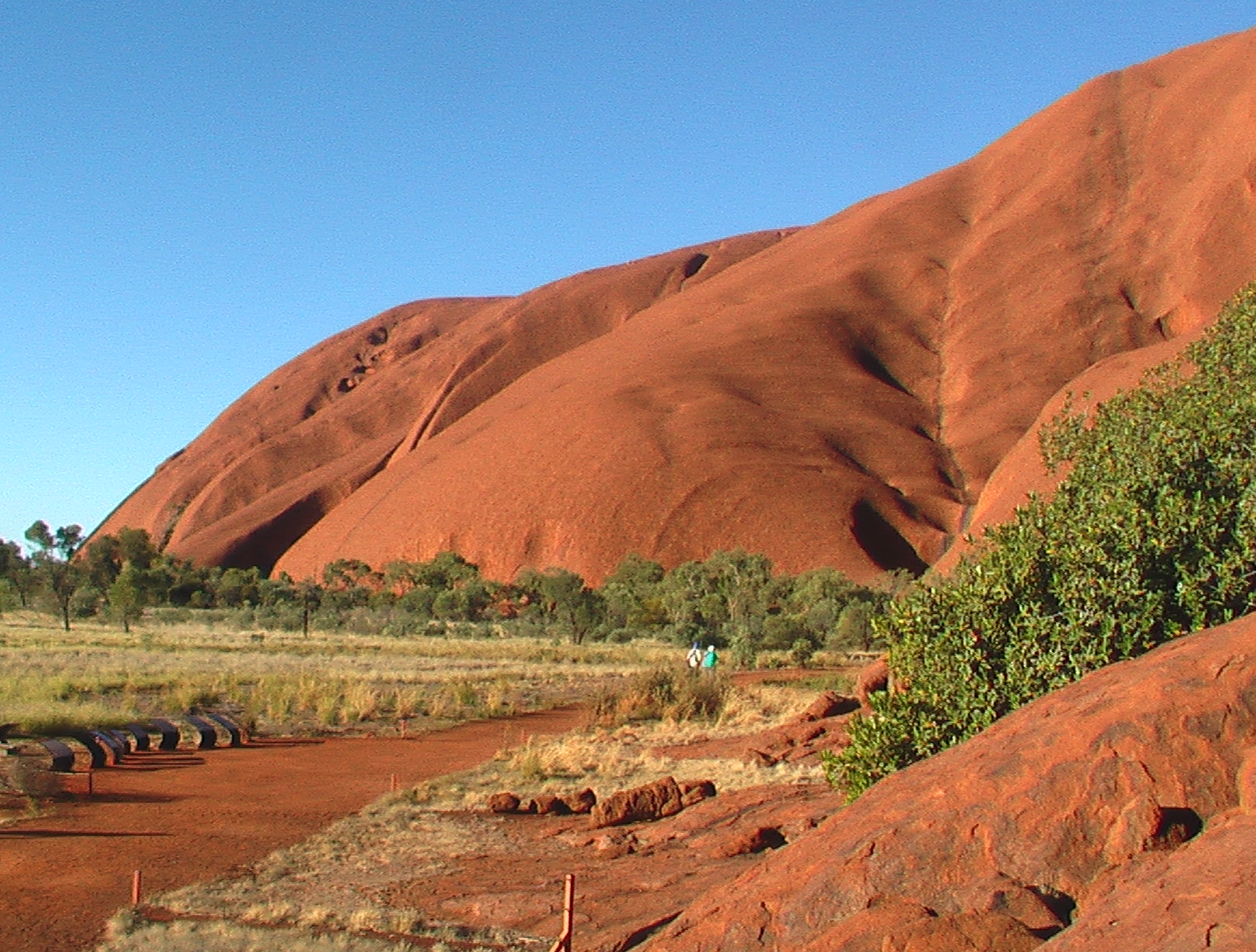 Day 5 – Enjoy a hearty breakfast or alternatively enjoy the resort facilities or more time for walks or just relaxing with the power of Uluru Transport available to airport for flight connections. Tour ends 9am after breakfast for flights home or flight or road transport to Alice Springs is available, or join our 4 day tour to Lake Eyre & Adelaide via Coober Pedy & the Flinders Ranges. B Book Tour at calendar
Inclusions –
Small boutique group in modern 4 wheel drive vehicles (4-6 passengers) – Landcruisers or similar
Professional and experienced driver / guides
Long established relationships with local Aboriginal people enriches experiences
Experience the high energy of rock art, sacred sites and songlines
Delicious meals shown as B,L,D, including vegetarian options, unless noted in itinerary.
Accommodated sleeping or luxury camping. Camp gear includes stretcher, mattress & linen.
All World Heritage and National Park entry and accommodation fees
Aboriginal Art community visits for "direct from artist" purchases
Contributions of tour price supports Outback Kids and nature care programs.
A knowing that you are co-creating Australia's future.
You – and Your involvement in a creation much bigger than most can imagine

Allow an extra day for Chambers Pillar & Rainbow Valley tour
Allow time before or after the tour to stay in Alice Springs and see more of the rich sights such as Royal Flying Doctor Service, School of the Air, Overland Telegraph Station, Araluen Art & Cultural Centre, Air or Transport Museum, Aboriginal Art galleries, Alice Springs Desert Park.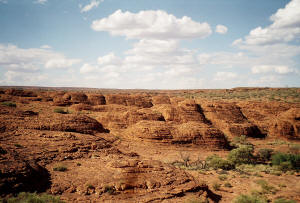 5 Day Alice Spring to Uluru Ayers Rock via MacDonnell Ranges Tour Tour includes a professional guide, delicious meals, all fees, professional guides, luxury 4WD transport, comfy camping or Accommodation upgrade options.
5 Days/ 4 nights – Rates for comfortable camping or accommodated – see Calendar below. For 4 nights motel / hotel accommodation upgrade add $995 per person for twin share / double room.  To add 1st night at start point (Uluru or Alice Springs) Please Ask Book Early & SAVE   Book Tour at calendar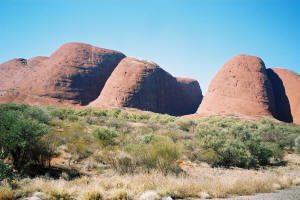 ---