Family Travel Tours
Family Travel Outback Tours
Family friendly prices and school holiday programs for travel with kids and children. ALL our tours are family and kid friendly – we baptised (smoking ceremony) 2 babies recently the Aboriginal way, during Bush University.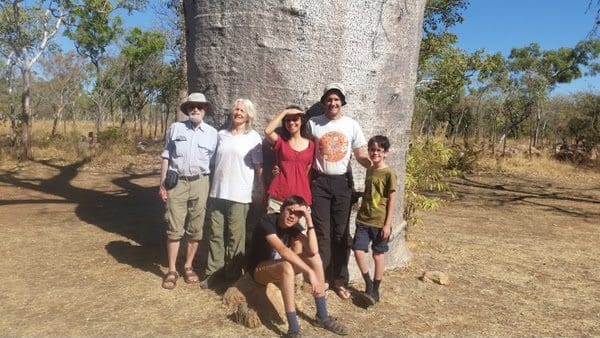 Some of our tours are planned in school holidays.

Options available for Family Travel & budgets include:
Passenger in our 4WD vehicles
Tag along in Your own 4WD vehicle
Hire & you Drive 4WD & Tag Along from Broome, Alice Springs, Darwin Uluru or other locations
Click here for Tour dates & details or Hire details
The Meteorite Messages from Bush University in 2005 means we have developed special programs and pricing to make it easier for kids and families to share Aboriginal life and outback experiences.
Kids Explore & Discover themselves and a new deeper relationship to country.
Making new friends across cultures is empowering for ALL. We have facilitated this work with kids on tours since 1995.
PRICES FOR FAMILY TOURS TRAVEL
Prices for Family Tours is likely not shown in tours table below – and varies depending on whether camping or accommodated or a combination.
Please call 1300 763 188 for prices of families travelling with children at a substantial discount, e.g. for Kimberley Tours – 1st & 2nd adult 100% of full fare, 1st & subsequent child under 18 year, 75%. Under 6 years old – even better depends on tour. Please ASK.
SAMPLE ITINERARIES SHOWN BELOW FOR FAMILY TOURS TRAVEL …