Tour Vehicles & Equipment

Camping Tours are the best way to get to remote secret places in Australia.  This is what we have done it for nearly 20 years – and optionally our tours allow you to get accommodation at some locations for some extra pampering.
Take it easy while we show you some secret, sacred sites on our Camping or Accommodated Tours in style. These days, camping holidays are much easier than they used to be with new gadgets, but the old campfire is our favourite.
Comfy camping includes modern easy equipment and full height tent, bedding supplied, 75-100 mm (4 inch) mattress, stretcher if requested on Booking Form
Accommodation is also often available in motels, hotels or local en-suite cabins in remote areas
Our Accommodated & Camping Tours are available on most of our tours including Kimberley & Kakadu tours, MacDonnell Ranges, Uluru & Red Centre, Gulf Savannah Way tours, Pilbara Tours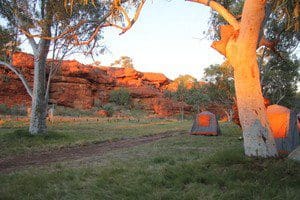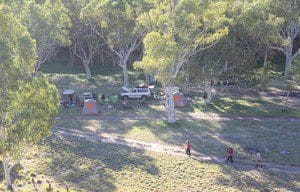 See All Accommodated or Camping Tours or Availability or Book the latest Tours here
We have worked with Australian Aboriginal elders and communities in the Kimberley and across Australia for more than 20 years, supporting communities to re-establish on traditional lands and helping  share their knowledge of country through Bush University and other  initiative
Our modern Toyota Landcruiser 4WD vehicles means you travel in small private groups in comfort to access areas others can't reach.See latest Travel Updates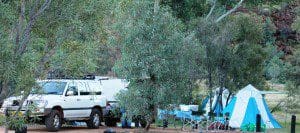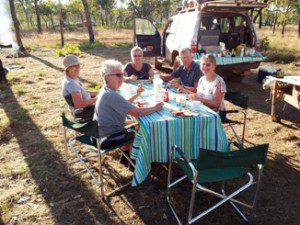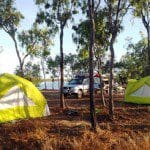 Transport is by modern air conditioned four wheel drive vehicles (Toyota Landcruisers or similar). These are fully equipped with safety gear including 2 or 3 spare tyres, shovel, standard and high lift jack, tyre pressure gauge and compressor, snatch strap, chains, fitted toe hook, bull bar and toe bar, various ropes, wooden blocks, axe, tools, tapes, chains, fire extinguisher, dual batteries, reserve fuel & oils, puncture repair kit, bush saw, compass and maps, heavy duty gloves, HD wet weather gear, tarpaulins, relevant communication and  navigation equipment and various other relevant equipment.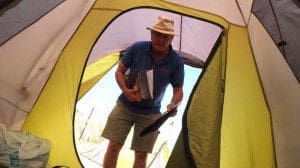 Gear We bring We supply all necessary equipment (excluding what you bring) including vehicles and trailers for gear and camping equipment ie 1, 2 or 3 person tents, (or more available if requested) gas cookers, campfire facilities, utensils, and all cooking, eating, tables, seating, washing, and laundering gear, food, water, extra fuel, and sleeping stretchers on request.
Bedding – Most tours can be accommodated, camping or a combination. Please ask regarding you preferences. Camping allows us to reach places others don't reach, and we do it in style. Real coffee, real sheets, real beds, full height tents, foam mattresses, stretchers if requested. We call this Comfy Camping
Gear You bring

We supply all sleeping gear or you may prefer to bring sleeping bag and inner sheet.
A Self inflating mattress is supplied and stretchers available on most tours if requested.  Brimmed hat, sunscreen, sunglasses, camera, torch (headlight type recommended), water bottle, walking shoes or boots, (plus old shoes for wet walk in Tunnel Creek if applicable) raincoat, towel, swimwear, extra clothes, jacket/sweater (cool nights), toiletries, 2 pairs shorts, tee shirts. Laundry facilities are available approximately every 6 days less.Some stops will be in a towns or communities, so allow funds for personal spending eg snacks, art, film, souvenirs.Please ask if you have any questions. Due to the need to be self sufficient, and to carry considerable fuel, water, food, camping and safety equipment, clients are required to restrict personal luggage to 1 soft bag, maximum weight 15 kg, and maximum size 660mm x 460mm, and 1 small day pack to be carried in the vehicle (for personal items, water, camera, snacks). Bags should be waterproof.
Remember this is a small group, community experience camping journey. We develop a team working and travelling flow, so bring your adventurous spirit  too! Any questions, please ask.
For an interesting and entertaining read, see the article by Professor Stuart Hill from School of Social Ecology CAMPING to change the WORLD
Campsites
Many areas we stay have modern facilities including laundries, ironing, toilets and showers. This includes Yulara (Uluru), Alice Springs, Glen Helen, Broome, Fitzroy Crossing, Halls Creek, Broken Hill, Copley, Prap Prap (Bush University) and other major towns.Camping in remote areas such as shown above is a special opportunity and real gift of outback travel – often just you and no-one – for great clarity of mind. Areas like this include Tanami Track and the Western Deserts. Here we may find a wonderful waterhole or river for swimming.Generally Central Australian winter travel is cool and dry – and each day is a refreshing new experience. Ask those who know after more than 40,000 years doing it.
We carry a portable hot shower for use in remote areas, and increasingly remote areas like Windjana Gorge and Palm Valley have solar powered showers.Some areas without showers include Bungle Bungles (Kimberley) and Redbank Gorge  (MacDonnell Ranges).For an interesting and entertaining read, see the article by Professor Stuart Hill from School of Social Ecology CAMPING to change the WORLD 

Remote Bush Camping – eg Western Desert, Canning Stock Route, Sijmspon Desert does not have these facilities but we carry many creature comforts.
ABOUT US •  BACKGROUND  • TOUR MENUS  •  TOUR EQUIPMENT/VEHICLES  •  LEADERSHIP  •  WEATHER •  ABORIGINAL INTRODUCTION