Canning Stock Route Tours
Canning Stock Route Tours from Broome, Darwin, Kununurra, Halls Creek, Perth, Alice Springs
NEW – 2018 Canning Stock Route Tours departures now available. 2018 OUTBACK TOURS – Get in early to see the best of the wilderness and wet season new growth.
May 15 – June 1 – Canning Stock Route Tours 2018– From Alice Springs to Newman or Broome or Alice Springs return (May 15 – June 1) via Gunbarrel Highway,  Giles, Warburton, Uluru)
July 13 – 30 – Darwin to Halls Creek, Canning Stock Route to Newman, Broome or Alice Springs
July 13 – 30 – Alice Springs – Tanami Track, Canning Stock Route to Newman, Broome or Alice Springs
July 22 – August 7 – Canning Stock Route Tours 2018 – From Broome to Newman or to Broome or Gunbarrel extension to Alice Springs (arrive Alice Springs August 9 or Uluru for flights home)
Book 2018 Canning Stock Route Savings Online HERE
Or Call 1300 763 188  or 0417 244 600
Alice Springs or Broome departure & return options 2018 …
June 28 – July 5 – CANNING STOCK ROUTE – TOP HALF TO WELL 33  – 8 days from Broome via Halls Creek, Lake Gregory region, Paruku Indigenous Protected Area, Paruku Indigenous Protected Area, Well 51 to Well 33 on Canning SR, Kunawarritji Aboriginal Community then Marble Bar overnight to Broome – a Great taste of the remote and incredibly beautiful Great Sandy and Western Deserts – $5,880 limited places
June 28 – July 13 – CANNING STOCK ROUTE TOUR – from Broome via Balgo, Lake Gregory, Canning, Wiluna, to Newman, optional return via Marble Bar to Broome.
Our Canning Stock Route Tours travel the original Canning Stock Route created by Albert Canning in 1908 for Kimberley cattlemen to take their stock to the southern markets. The original route includes 51 wells and stretches 2,013 kilometres from Halls Creek to Wiluna. The Canning Stock Route now forms one of the most remote and challenging four wheel drive tracks in the world…. Our route takes us via awesome desert landscapes as we travel via the Great Sandy Desert, Tanami and Gibson Deserts through gibbers, sandhills, ancient ranges and salt lakes.
Join us Departing on this 15 -18 day tour from Alice Springs or Broome to Newman WA (to fly to Perth) or return to Broome via Marble Bar (16 days) or Alice Springs
Our journey includes Fitzroy Crossing, Halls Creek, Billilluna Aboriginal Community, Lake Gregory (bird watchers paradise), Paraku Indigenous Protected Area, Lake Gregory, Wardabunni Rockhole, Durba Springs, Diebel Springs, Onegunyah Rockhole, Lake Disappointment, Helen Hill, Slate Range, Ural Native Title Well, Glen Ayle Station, then the rich mineral & Gold rush areas around Wiluna and Newman (with a BHP Mt Whaleback Mine tour option).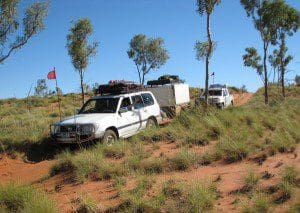 Tour in convoy in comfortable and modern Toyota Landcruiser GXL vehicles, 4 nights motel accommodation (Halls Creek, Kunawarritji Aboriginal Community, Wiluna and Newman), all meals, fees, permits, professional 4WD driver guides, delicious healthy meals, deluxe & modern camping gear supplied including full height tents, stretchers if required, self inflating mattresses, linen and pillow case, showers and proper toilets.
Marble Bar option – For return to Broome 2 days including extra 1 night accommodation (optional BHP Whaleback mine tour available) plus sightseeing at Marble Bar & 80 Mile Beach  – Add $ 680.
NEW Additions for Canning Stock Route Tours in 2017 –
Overnight at Kunawarritji Aboriginal Community
4 nights motel style accommodation included – for Broome to Newman or Broome tour
Register your interest so you don't miss out.. 
Ask for full itinerary or click here
LIMITED PLACES Contact us with your expression of interest
Please contact us if any questions –  Places are limited so book early
Download detailed itinerary – Canning-Stock-Route-Tours-Detail-2018
Ask for Details of FULL ITINERARY or BOOK NOW