Mowanjum Festival Tours




Mowanjum Festival, Mowanjum Art Centre and Kimberley Tours
Celebrating the Mowanjum Community
and the New Wandjina Art Centre
Thursday July
Venue:
Mowanjum Aboriginal Community – 12kms from Derby, 3kms along the Gibb River Rd.
Contact: Richard – 08 9191 1008 0417 244 600
Costs: Adults:$10, Kids U/16 $5.
The Mowanjum
Community, situated 12kms out of Derby on the Gibb River Road, warmly
invites you to their annual Festival on Thursday 9th July. This year
the festival will include workshops during the day for adults and
children, where skills like didgeridoo playing and dance totem making
can be learnt. Highlights of the night will include traditional
corroberees from Mowanjum and Gibb River Road communities, as well as
those from the Fitzroy Valley, One Arm Point and others. This is the
largest traditional Aboriginal corroboree in WA that is open to the
general public
The children of
Mowanjum are already getting excited as they will soon start Festival
workshops every afternoon after school thanks to the support of
Healthway. Last year 50 children performed for the Festival, joining
their elders in a spectacular Junba. The Mowanjum Festival is proudly
sponsored by Healthway promoting the "Respect Yourself Respect Your
Culture" message.
This years Mowanjum Festival will celebrate
community which will be cause for great celebration.
Mowanjum festival will showcase the
musical talent of the region and an opportunity to experience the
magnificent corroborees of the Ngarinyin, Wororra and Wunumbul people!
Mowanjum Community invites you to view its Art and
Culture. 
A
Traditional cultural evening featuring art displays and corroboree
dancers.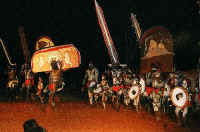 Above – Rain Dance
Be there with Spirit Safaris
Mowanjum Festival & Kimberley
Tour – see Kimberley
Darwin to Broome & Mowanjum Festival
Kimberley
Tours via Gibb River Rd SeeTours Program   
Mowanjum Festival followed
by Kimberley Tours via Gibb River Rd

Book NOW for the
Special Extras
Ask about
Special Extras – Call 02 8213 3225 or Online Booking