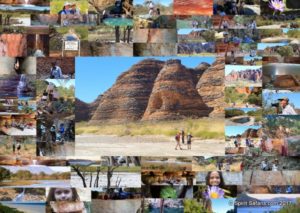 Here are the latest still available dates for Kimberley Darwin Broome Kununurra Gulf Savannah Way Cape York Tours
These exceptional small group genuine 4WD tours give you a very personal and immersive experience of these unique locations – We have been doing it for over 25 years and love sharing this country with fellow explorers.
Waterfalls and wet season new growth are most spectacular in early season – so we recommend May – June – July – but anytime is a good time.
To help our planning for 2019, an Early Bird offer is also available on these selected tours –SAVE $ 400 per person if booked by December 31 – See below
For other dates and destinations or Tag along or tailored tours, please contact us on 0417 244 600 or 1300 763 188 or email.
Kimberley Darwin Broome Kununurra Gulf Savannah Way Cape York Tours
Kimberley Darwin Broome Kununurra Gulf Savannah Way Cape York Tours for 2019 include –

May 5 – 18 – Kimberley Complete Mitchell Falls Mt Elizabeth Lake Argyle Darwin to Broome Tour 14 days via Gibb River Road  includes Lake Argyle cruise, Mitchell Falls (2 Nights), Bungle Bungles (2N), El Questro (2N), Kununurra, Mt Elizabeth Station (2N), 5 Rivers Lookout, Galvan's Gorge, Windjana Gorges & Tunnel Creek, plus exceptional extra remote Aboriginal Rock Art sites and Aboriginal Art Centres (Tour Code KDBA14)  https://spiritsafaris.rezdy.com/274099/kimberley-complete-mitchell-falls-mt-elizabeth-lake-argyle-darwin-to-broome-tour-14-days
May 21 – June 1 – Kimberley Broome to Broome Mitchell Falls Lake Argyle 12 Day Tour via Mitchell Plateau, and rare and exceptional Rock Art, Bungle Bungles, El Questro plus Fitzroy Crossing with Geikie Gorge cruise on Fitzroy River, Windjana Gorge, Tunnel Creek, Imitji, King Leopold Ranges, Galvans Gorge, Manning Gorge, Mt Barnett, Mt Elizabeth Station, Drysdale Station, Mitchell Falls, King Edward River rock art, El Questro, Zebedee Hot Springs, Bungle Bungles walks & optional heli flight. Opportunity to meet Aboriginal elders and artists, visit Wandjina and Bradshaw rock  art sites, swim in pristine waterholes on this Gibb River Road tour. Fully accommodated or camping options.  Tour CodeKBB12 https://spiritsafaris.rezdy.com/262897/kimberley-broome-to-broome-mitchell-falls-lake-argyle-12-day-tour
June 3 – 14 – Kimberley Broome to Darwin Mitchell Falls Lake Argyle 12 Day Tour via Mitchell Plateau, and rare and exceptional Rock Art, Bungle Bungles, El Questro plus Fitzroy Crossing with Geikie Gorge cruise on Fitzroy River, Windjana Gorge, Tunnel Creek, Imitji, King Leopold Ranges, Galvans Gorge, Manning Gorge, Mt Barnett, Mt Elizabeth Station, Drysdale Station, Mitchell Falls, King Edward River rock art, El Questro, Zebedee Hot Springs, Bungle Bungles walks & optional heli flight. Opportunity to meet Aboriginal elders and artists, visit Wandjina and Bradshaw rock  art sites, swim in pristine waterholes on this Gibb River Road tour. Fully accommodated or camping options.  Tour CodeKBD12 https://spiritsafaris.rezdy.com/281464/kimberley-broome-to-darwin-mitchell-falls-lake-argyle-tour-12-days
June 3 – 14 – Kimberley Broome to Broome Mitchell Falls Lake Argyle 12 Day Tour via Mitchell Plateau, and rare and exceptional Rock Art, Bungle Bungles, El Questro plus Fitzroy Crossing with Geikie Gorge cruise on Fitzroy River, Windjana Gorge, Tunnel Creek, Imitji, King Leopold Ranges, Galvans Gorge, Manning Gorge, Mt Barnett, Mt Elizabeth Station, Drysdale Station, Mitchell Falls, King Edward River rock art, El Questro, Zebedee Hot Springs, Bungle Bungles walks & optional heli flight. Opportunity to meet Aboriginal elders and artists, visit Wandjina and Bradshaw rock  art sites, swim in pristine waterholes on this Gibb River Road tour. Fully accommodated or camping options.  Tour CodeKBB12 https://spiritsafaris.rezdy.com/262897/kimberley-broome-to-broome-mitchell-falls-lake-argyle-12-day-tour
June 16-27 – Kimberley Broome to Darwin (or Kununurra) via Mitchell Falls, Lake Argyle 12 Day Tour and exceptional Rock Art, Bungle Bungles, El Questro, Mt Elizabeth Station –  https://www.spiritsafaris.com/kimberley-rock-art-tour-mitchell-falls-bungles-el-questro/
June 30 – July 12 – Kimberley Darwin to Broome via Mitchell Falls Tours 13 days with Wandjina, Bradshaw / Gwion rock art  with optional Litchfield National Park, via Pine Creek, Katherine (Katherine Gorge cruise option), Victoria River, Timber Creek, Kununurra, Bungle Bungles walks with flight, El Questro, Zebedee Hot Springs, King Edward River rock art, Mitchell Falls, Drysdale Station, Mt Elizabeth Station, Mt Barnett, Galvans Gorge, King Leopold Ranges, Imitji, Windjana Gorge, Tunnel Creek, Geikie Gorge cruise on Fitzroy River, Mimbi Caves (option), Cable Beach, Broome. https://spiritsafaris.rezdy.com/274433/kimberley-darwin-to-broome-mitchell-falls-tour-with-bungle-bungles-el-questro-litchfield-or-katherine-13-days
June 17-29 – Gulf Savannah Way Darwin to Cairns via Lost City & Gulf Savannah Tours – Eastbound – 14 days via Ngukurr / Roper Bar, Lorella Springs Wilderness Park, Lost City, Hells Gate, Pungalina – Seven Emu Sanctuary, Cape Crawford, Lost City, (optional heli flight)  Caranbirini Nature Reserve, Hells Gate, Borroloola, Riversleigh Dinosaur Fossil Fields, Lawn Hill National Park, (now Boodjamulla National Park) Adel's Grove (2 nights), Bourke & Wills Roadhouse, Normanton, Karumba Gulf Carpentaria sunset cruise, Cobbold Gorge, Undarra Lava Tubes. Then Cairns. https://www.spiritsafaris.com/gulf-savannah-tours/
June 30 – July 7 – Cape York Thursday Island Tours 8 days, with Horn Island, Weipa, Daintree, Quinkan Rock Art, Cairns to Cairns Tour –  including Laura Rock Art, Weipa, & Billys Landing, Thursday & Horn Island ferries & day tours, including Twin & Fruit Bat Falls (on Old Telegraph Track) and last night accommodated in Cairns. Includes Cooktown, Lakefield National Park, Daintree Rainforest. Join us to travel by luxury 4WD to the northern most tip of Australia at Cape York & Thursday Island & Horn Island cruise and island tours. Explore Quinkan Rock Art, then Cooktown, Weipa, Lakefield National Park & the Daintree Rainforests, Mossman Gorge, Bloomfield Falls. https://spiritsafaris.rezdy.com/267251/cape-york-thursday-island-daintree-rock-art-cairns-tour-8-days
July 7-14 –  Gulf Savannah Way Cairns to Darwin via Lost City & Gulf Savannah Tours – 8 days via Lost City, Hells Gate, Cape Crawford, Lost City, (optional heli flight)  Caranbirini Nature Reserve, Hells Gate, Borroloola, Riversleigh Dinosaur Fossil Fields, Lawn Hill National Park, (now Boodjamulla National Park) Adel's Grove (2 nights), Bourke & Wills Roadhouse, Normanton, Karumba Gulf Carpentaria sunset cruise, Undarra Lava Tubes. Then Cairns. https://spiritsafaris.rezdy.com/262986/gulf-savannah-way-cairns-to-darwin-tours-8-days
Kimberley Darwin Broome Kununurra Gulf Savannah Way Cape York Tours
BOOK NOW and Save $500 PER PERSON. You can access these EarlyBird Offers available at 2018 prices – SAVE $400 per person by using Promo Code DEC31-400 at checkout by December 31, 2018. This applies to tours listed here – https://spiritsafaris.rezdy.com/catalog/290305/early-bird-promotion-tours