Great Ocean Road Tours
Great Ocean Road 12 Apostles Tours
Great Ocean Road Tours Adelaide to Melbourne to Adelaide (or reverse) via 12 Apostles, Lake Alexandrina, Murray River, Coorong, Limestone Coast, Mt Gambier, Naracoorte Caves, Apollo Bay, Bells Beach, Torquay

Departures  –
April 12-15, 2018 – Melbourne to Adelaide
October 20-23, 2018  – Adelaide to Melbourne
Plus On demand – Please Ask
Tour Meets Tasmania Ferry in Melbourne after (and before) the Tasmania Wilderness Explorer Tour or tour via VIC & NSW South Coast and Snowy Mountains to Sydney
Twelve 12 Apostles
Discover the dramatic rock sculptures of the 12 Apostles, the mystical Bay of Islands and the many viewing points along the Great Ocean Road affording spectacular views of the Southern Ocean. Watch southern right whales from the shoreline at the nursery in Warrnambool & meet the Penguins.
The Limestone Coast
Formed by tonnes of marine life falling to the sea floor, the Limestone Coast is book-ended by rivers. The coast heads south from the Coorong at the Murray River mouth and east to the Glenelg River. It's a treasure trove of natural wonders.
The Coorong
The Coorong National Park is an incredible spot for four wheel driving (4WD), fishing and boating. Birdwatchers, you're in for a real treat. More than 80 species live in this series of long, shallow saltwater lagoons. Towering white sand dunes separate the Coorong from the wilds of the Southern Ocean.
Scattered around these dunes are mounds of shells. Called "middens", they point to the generations of Ngarrindjeri who have lived in this area.
Renowned wine regions
The Limestone Coast's burgeoning wine industry was founded in 1891. Today, the Coonawarra is the jewel in the region's wine making crown and is well-regarded as Australia's top producer of premium red wines. Explore this 12 kilometre strip of precious terra rossa soil, then sample wine from the cellar doors in Wrattonbully, Mount Benson or Padthaway.
Mount Gambier
Mount Gambier consists of the peaks of 3 extinct volcanos, with the Blue Lake being one of the craters. The Blue Lake is the drinking water for the city and exposes the crystal clear water that has filtered underground through the limestone, passing slowly beneath the city. Each year in November the lake starts its colour change from winter steel blue to brilliant turquoise blue and then in March changes back to steel blue. With average depths of 70 metres, the lake contains 36,000 million litres (ML). It is the source of water to the city 3,500 ML is pumped annually from the lake into holding tanks which gravity feed water to the city and surrounds. The Blue Lake and the Crater Lakes area is a significant site within the Kanawinka Geopark and is a State Heritage Area.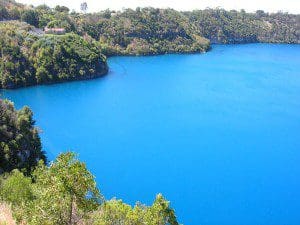 Great Ocean Road Tours Adelaide to Melbourne via 12 Apostles

Departs  –
April 12-15, 2018 – Melbourne to Adelaide
October 20-23, 2018  – Adelaide to Melbourne
Plus On demand – Please Ask

Details – 4 days 3 nights includes beach cabins & motel accommodation, all meals, National Parks & Naracoorte Caves entry.  Cost from Adelaide to Melbourne or reverse is $2850 includes GST. Pick up at your CBD hotel or Adelaide airport
Tour Meets Trans Tasman Ferry in Melbourne after the Tasmania Wilderness Explorer Tour or tour via VIC & NSW South Coast and Snowy Mountains to Sydney
Book NOW  – Call 1300 763 188
Sydney 02 8213 3225    Brisbane 07 3137 1607   Melbourne 03 9017 6862
Perth 08 6364 3651   Adelaide 08 8120 0366    Alice Springs 08 8120 0366