Cape Leveque Tours
Cape Leveque Tours from Broome – 1 or 2 day tours
Join our special small group 4WD Cape Leveque Tours on this exciting and fascinating Cape Leveque 1 or 2 day tour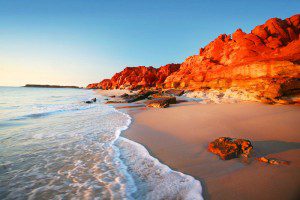 1 Day Cape Leveque Tours Details includes –
Dampier Peninsula
Beagle Bay Aboriginal Community  Beagle Bay Church – pearl shell altar, for morning tea.
One Arm Point Community
Buccaneer Archipelago – huge tidal flows of the Kimberley.
Aquaculture hatchery, with reef fish and trochus shell.
Cape Leveque ( known as Kooljaman)  – enjoy lunch then a free afternoon and time to relax on the pristine beaches. Swimming, snorkelling, sunbathing, photography, painting, coffee at the cafe or walks along the beach options.
Lombadina Aboriginal Community – Enjoy the gardens and bush timber church
Return to Broome approx 630pm
1 day includes lunch, morning tea, fees, 4WD transport, professional driver/guide. Cost for 1 day is – $480 per person minimum 2.
2 Day Cape Leveque Tours Details include –
Items in 1 day tour above
Beagle Bay & Mother of Pearl Shell Alter at Beagle Bay
Giant Tides 2 hour tour – Cruise by purpose built boat designed for this type of experience and take in the Giant Tides of the Kimberley in style – see the standing waves and feel the force of the whirlpools in comfort and safety
Lombadina Art craft shop (not open Saturdays)
Bush church at Lombadina
One Arm Point Trochus Hatchery visit
Swimming opportunity
Bardi Aboriginal Community visit
Sunset red cliff watching & photography
Cygnet Pearl Farm (Australia's oldest operating Pearl Farm)
Includes all meals, morning teas, fees, accommodation at Kooljaman Resort, 4WD transport, professional driver/guide are supplied on our Cape Leveque Tours.
Cost for 2 days is for accommodation booked for 2 people sharing is $2,895 or $1450 per person.
Camping option also available – $1195 per person with all gear, meals, entries. Twin Double or single, STRETCHERS AVAILABLE. No extra for single supplement
Please ask for details & available dates for Cape Leveque Tours
Add on before or after a Karjini or Kimberley tour