Cairns to Alice Springs Tours

Cairns to Alice Springs Tours via Dinosaur Trail
Two options for Cairns to Alice Spring tours via Dinosaur Trail  … see the mighty Muttaburrasaurus & Kronosaurus museums Larks Quarry, Riversleigh Fossils tour, Boodjamulla (Lawn Hill) National Park
 Cairns to Alice Springs via Dinosaur Trail, Lava Tubes & Devils Marbles –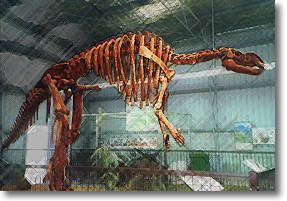 Tour highlights and Overnights –
Hughenden – Undarra Lava Tubes
Winton – Muttaburrasaurus & Kronosaurus museums at Hughenden and Richmond, Waltz Matilda centre
Cloncurry -Larks Quarry, Mesa Museum
Camoweal Mt Isa, Riversleigh Fossils tour, Boodjamulla (Lawn Hill) National Park
Alice Springs – Barkly Tablelands & homestead, Tennant Creek, Devils Marbles, Aileron giant sculptures
Explore – Waltzing Matilda Country and the Dinosaur Trail including The Dinosaur Stampede at Larks Quarry and the Muttaburrasaurus at Hughenden. Includes extensive Riversleigh Fossils site tour through his fascinating area. See ancient giant emu, crocodile, Turtles, fish, snails, crocodiles, lizards, pythons, birds and many types of mammal fossils.  Cost including all entries, park fees, meals, motel style accommodation  5 days /4 nights – $2995 Tour Code CAR5  BOOK NOW

Includes – Boodjamulla (Lawn Hill) National Park which features spectacular gorge country, sandstone ranges and World Heritage fossils. Located in the south-eastern section of the national park is the Riversleigh World Heritage Site.  It is one of the most significant fossil deposits in the world and the richest known fossil mammal deposit in Australia. It has revealed records of Gondwanan life forms which existed prior to the break up of this ancient continent. We see fossils dating back 25 million years. Turtles, fish, snails, crocodiles, lizards, pythons, birds and many types of mammal fossils have all been recovered from D Site.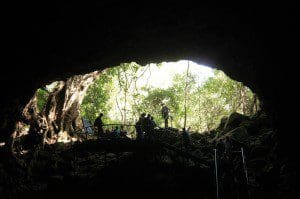 Undara Lava Tubes – Volcanic lava has created a remarkable tunnel system that lies beneath the rich grasslands of Undara.
Enjoy the picturesque drive via the Atherton tablelands to tour through the Undara Lava Tubes. The Undara Lava Tubes were formed some 190,000 years ago when a major volcano erupted, its molten lava flowing down a dry river bed. As the top layer quickly cooled and crusted, the fiery magma below continued to flow through the tubes taking it further and further from the volcano. The Undara tubes are the world's longest lava flow. The original tube formed by the flow extended for approximately 100 kilometres, and several sections are accessible.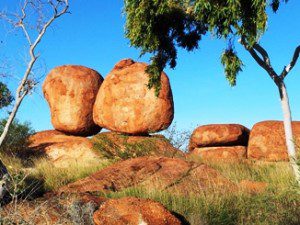 Cairns to Alice Springs via Dinosaur Trail, Min Min Encounter & Plenty Highway – includes Diamantina National Park, Min Min Encounter, Dinosaur Trail Tour. Explore the Plenty Highway on the edge of the Simpson Desert, the Min Min experience in Boulia, the mighty Diamantina River, Winton – Waltzing Matilda Country and the Dinosaur Trail including The Dinosaur Stampede at Larks Quarry and the Mutaburrasaurus at Hughenden as we travel via Charters Towers, Townsville & Cairns – 
Tour highlights and Overnights –
Hughenden – coast drive via Townsville & Charters Towers
Winton – Muttaburrasaurus museums at Hughenden, Waltz Matilda centre
Boulia – Larks Quarry, Diamantina River NP & Old Cork Station, Mesa Museum
Tobymorey  – Min Min encounter, Plenty Highway
Alice Springs – Gem Tree fossil area, vast Simpson Desert views, Aboriginal art
Cost including all entries, park fees, meals, motel style accommodation  5 days /4 nights – Tour Code CAR5 $3995

Cairns to Alice Springs tour via Dinosaur Trail, Mt Isa, Tenant Creek, Devils Marbles  – includes Dinosaur Trail Tour, including "Dino" the Mutaburrasaurus at Hughenden as we travel via Charters Towers and Townsville – Please Ask  3 days 2 nights – $2495 fully accommodated
Dinosaur Footprint at Hughenden BOOK NOW