Australian Wildlife Conservancy Tours
Mornington Wildlife Sanctuary, Newhaven, Scotia tour to Sanctuaries
Tours visiting Mornington Sanctuary, Newhaven Sanctuary and other AWC sanctuaries
Ask about our Tours to Mornington Wilderness Camp and Wildlife Sanctuary and Newhaven Wildlife Sanctuary operated by Australian Wildlife Conservancy.Private charter or tailored tours also available.
Increasingly Nature is asking us to give attention and increase awareness of our environment, which has always been our tour intentions.
We have tours visiting Mornington Sanctuary  (Kimberley tours) and Newhaven Sanctuary (Tanami Track tours). Both these sanctuaries are operated by Australian Wildlife Conservancy.
Mornington Wilderness Camp
Located in the heart of the Kimberley, Mornington Sanctuary covers more than 3,000 km2 of spectacular gorges and tropical savannah dominated by the Fitzroy River and King Leopold Ranges. Owned and managed by the non-profit AWC, Mornington Wilderness Camp provides a comfortable base from which to explore this remarkable sanctuary. It is a naturalist's paradise, providing refuge for over 200 species of birds and a diverse range  of other wildlife. All proceeds from the Wilderness Camp are dedicated to the conservation of wildlife in the Kimberley.
AWC offers many enjoyable day trips around Mornington. Popular activities include canoeing down Dimond Gorge and swimming andexploring Sir John Gorge. Before dinner, enjoy a glass of wine as you watch the sun set over the stunning Central Kimberley ranges.
Nature lovers can indulge in various guided and self-guided tours. From birdwatching to exploring habitats unique to the Kimberley, there is something for everyone.
Private tours are available to exclusive hideaways such as
the tranquil pools of Fitzroy Bluff.
Newhaven Sanctuary Tours
An enormous wind-driven sand blanket covers much of central Australia, but at Newhaven,
shimmering salt lakes, pastel ochre clay pans, vibrant red parallel dunes, undulating calcareous plains and dramatic purple-red quartzite mountains cut with scarps and gorges punctuate the view. Each of these landforms supports its own diverse range of plant communities that vary in response to topography, soil and fire history. These communities create a scattered patchwork of textured greens, yellows and greys, providing stark contrast to the colours of the underlying terrain.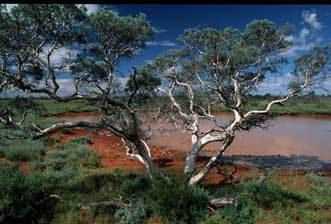 Parallel sand ridges, described by an explorer as "an ocean of spinifex covered sand waves" characterise the southern-most parts of Newhaven. Further north, an extensive system of salt lakes lay strewn along an ancient calcareous drainage line from east to west across the property, culminating in the 16 km long Lake Bennett. The lake rarely contain water, except after
periods of intense rainfall, but its fringes are home to unique communities of salt adapted plants.
A crescent of bluff-edged ranges dominate the north eastern corner of Newhaven. Black-footed rock wallabies survive among the rugged boulder fields and gorges of these mountains.
Spirit Safaris operates tours to AWC sanctuaries and is a proud financial supporter of their programs.

Check out our tours visiting Mornington Sanctuary (Kimberley tours) and Newhaven Sanctuary (Tanami  Track tours). or Kalamurina Wildlife Sanctuary on our Lake Eyre Tours & Flights or ask for details on a tailored tour package for your group.
Typical tour Inclusions
Small group luxury 4WD travel (maximum 8 / vehicle)

Professional and experienced driver / guides

Long established relationships with local Aboriginal people enriches experiences

Access to remote areas and rock art sites unreachable by most tour vehicles

Special time with elders for women's business / men's business and kids business.

Helicopter flight over Mitchell Falls, optional Bungle Bungles flights

Cruises with local guide at Geike Gorge, Fitzroy River  and Chamberlain Gorge
El Questro (selected tours)
All delicious meals, including vegetarian, unless noted in itinerary. Celebration
completion meal.
All camping gear which is modern and easy to use

Comfortable sleeping options (self inflating mattress or stretcher). Bring your
bedding or available from us.


All World Heritage and National Park entry and accommodation fees

Aboriginal Art community visits for "direct from artist" purchases

Contributions of tour price supports Outback Kids and nature care programs.

A knowing thatyou are co-creating Australia's future.

Learn practical skills –

Bush foods & medicine and survival skills for self and team survival and thrival

Camping, tent, food health & safety

Rock art symbols guide / earth energy connection

A knowing that you are co-creating Australia's past, present and future.
You – and Your  involvement in a creation much bigger than most can imagine
Learn of the latest tour opportunities to visit Australian Wildlife
Conservancy Sanctuaries
Call Spirit Safaris now 1300 763 188
For more about AWC or to donate click here