Rock Art Tours
Aboriginal Rock Art Tours to Kimberley, Kakadu, Uluru plus Burrup  /  Dampier Penisula, Western Deserts, Flinders Ranges, Cape York, NSW
You can visit many Aboriginal rock art sites with us and Aboriginal elders and custodians who explain the meaning of the art, and can tailor tours to special areas and interests. Kimberley rock art tours visit Wandjina, Gwion Gwion and Bradshaw Aboriginal rock art sites.
Other sites include in NSW include Mt Grenfell, Mootawintji, Kuringai Chase National Park.
In WA Dampier rock art NT Ewaninga, Wallace Rock hole SA Flinders Ranges
Quinkan rock art is visited on our Cape York Tours  – see https://www.spiritsafaris.com/cape-york-thursday-island-daintree-rock-art-cairns-tour/
Rock Art Walks – Explore some of the Quinkan Aboriginal Rock Art at the Split Rock art site or the Quinkan rock art at Jowalbinna in Queensland's premier rock art site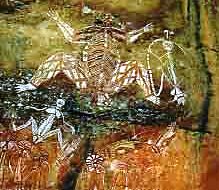 ---
Rock art is often much more than meets the eye – it is often at powerful sacred sites and shows how to work with the energies of these site. eg for rainmaking, hunting, healing etc See article Sacred Sites.
---
Kimberley tours visit Wandjina, Gwion Gwion and Bradshaw rock art sites. Other sites include in NSW Mt Grenfell, Mootawintji, WA Dampier rock art   NT Ewaninga, Wallace Rock hole   SA Flinders Ranges
---
Rock art, is often much more than meets the eye – it is often at powerful sacred sites and shows how to work with the energies of these site. eg for rainmaking, hunting, healing etc  See article Sacred Sites
See further info at Tours or Ask
Other info at Dampier Rock Art
---