Kimberley Tours from Broome to Darwin Tours
8 Day Kimberley Broome to Darwin Kimberley Tours

 
Booking Here or See rates & Availability
8 day Kimberley Tours from Broome to Darwin via Gibb River Road Mitchell Falls, El Questro, Bungle Bungles & more
Summary with Details Below   – 8 days/7 nights with extension options. Kimberley tours from Broome to Darwin via Derby, Fitzroy Crossing (Geike Gorge cruise),  Windjana Gorge, Tunnel Creek, Bell Gorge,  Galvans Gorge, Manning Gorge, Barnett River Gorge, Mt Barnett, Mitchell Falls, Drysdale River Station, El Questro, Home Valley Station, Zebedee Hot Springs, Bungle Bungles with flight, Kununurra, Katherine to Darwin. Meet with Aboriginal elders, meet Aboriginal artists, visit Wandjina and Bradshaw rock art sites, swim in pristine waterholes on this Gibb River Rd by 4WD tour, Fully Accommodated or camping options. Tour Code KBD8 or
Booking Here or See rates & Availability
| | | |
| --- | --- | --- |
| | | |
| Mt Trafalgar Spirit Safaris Kimberley tour | Mitchell Falls Kimberley Spirit Safaris tour | Remote Wandjina Rock Art |
via Gibb River Road. Kununurra, El Questro, Drysdale, Bell Gorge, Mitchell Falls & Bungle Bungles flights, El Questro cruise – Tour Code KDS8
Depart-Finish Dates – Darwin to Broome – See  Book Tour


tour via Gibb River Road, Mitchell Falls & Bungle Bungles flights, El Questro cruise – Tour Code KBS8
Depart-Finish Dates – Broome to Broome – See  Book Tour


via Gibb River Road, Mitchell Falls & Bungle Bungles flights, El Questro cruise – Code KBS8
Depart-Finish Dates – Broome to Darwin – dates – See Book Tour

Tour itinerary follows for Broome to Darwin  or see REVERSE for   Darwin to Broome
Broome to Broome tour departs 730 am via Fitzroy Crossing & Halls Creek with Bungle Bungles day 2 then same as Darwin to Broome tour – See details

Cockburn Range from Gibb River Rd at Pentecost River Kimberley tour – A Road Less Travelled
Wrap up the Top End – Combine spectacular Kimberley scenery with Top End treats. Experience incredible rock art galleries – learn about Aboriginal culture, lore, men and women's business, spirituality, bush medicines and food, language and history, ceremony, song and dance. Enriching and fulfilling experiences in the land of the world's longest surviving culture.  Visit special Wandjina and Bradshaw (Gwion Gwion) Aboriginal rock art sites. A unique opportunity to learn ancient wisdom, recreating community and nature. Enriching and fulfilling experiences with the world's longest surviving culture.
Broome to Darwin

– 8 day Kimberley Tour with Mitchell Falls & Bungle Bungles
Arrive a day earlier to enjoy Broome's famous Cable Beach, or a scenic flight to the  Horizontal Waterfalls or visit the Willie Creek Pearl Farm. Great shopping in Broome's balmy climate too !
Consider arriving with us from Alice Springs via the Tanami Track, Wolfe Creek Crater and Aboriginal art communities.
Tour itinerary – Broome to Darwin
Day 1 – Departs selected Sundays from Broome 730 am. Visit the famous prison Boab tree, and then Derby highlights including the Derby wharf (30 ft tides!) on King Sound, the worlds longest cattle drinking trough, the new Mowanjum Art Centre (meet the artists, learn and buy from source) at Mowanjum Aboriginal Community. Depart from Derby for mystical Windjana Gorge and a short hop further to Tunnel Creek. We walk through this 600m cave river system to a special waterhole. After an optional swim, return to Windjana Gorge for a sunset gorge walk at this special creation "waterhole". Meet the local freshwater crocodiles and exotic bird life (maybe even a rare Gouldian Finch) in this eerie, ancient seabed environment. Overnight Windjana Gorge or Imitji Safari Camp if accommodated tour LD
Day 2 – We travel the Gibb River Rd visiting Lennard River, and through the Napier Range at Queen Victoria Pass. We traverse the King Leopold Ranges & Conservation Park (great views) via Inglis Gap and visit Imitji store and Aboriginal community to arrive at Mornington Wildlife Sanctuary for our overnight stop. You can join Mornington's Naturalist Guide for a complimentary talk/slideshow for an insight into the work of the Australian Wildlife Conservancy and the unique values of Mornington Wildlife Sanctuary. Also, browse the Interpretive centre displays and find information on research and conservation activities at Mornington. A good selection of reference and ID books are also available. BLD
Day 3 – Enjoy an easy access early morning walk along Annie Creek if you choose, before our spectacular 4WD journey to either nearby gorge. Dimond Gorge is beautiful. Majestic geological formations area a highlight and the view from the lookout at Dimond Gorge is very special. The drive to Sir John Gorge takes you through undulating savannah formed over the millennia from the erosion of the Leopold Sandstones and the breakdown of volcanic ridges. It is a 1 hour drive (14km). The destinations itself is a massive thoroughfare of the Fitzroy River that started to carve its way through the sandstone while life on earth was still in its infancy. Mornington Sanctuary covers more than 3,000 km2 of spectacular gorges and tropical savannah dominated by the Fitzroy River and King Leopold Ranges. Owned and managed by the non-profit Australian Wildlife Conservancy. Our wilderness camp base is a naturalist's paradise, providing refuge for over 200 species of birds and a diverse range of other wildlife. All proceeds from the Wilderness Camp are dedicated to the conservation of wildlife in the Kimberley. After lunch, we stop at picturesque Galvan's Gorge for an optional swim, then travel via Mt Barnett, before our turn off the Gibb River Rd to the Kulumburu Rd to Drysdale River cattle station. Here we overnight and enjoy the local stories, and an introduction to cattle station life, with a tasty meal at the bar or in the lush garden. Overnight Drysdale Station.
Day 4 –  From Drysdale River Station, we take a 2 hour scenic flight viewing Mt Hann, Deep Gorge and the Rift, then over the magnificent Prince Regent Nature Reserve. We follow the Prince Regent River, fly over numerous unnamed waterfalls, King Cascades, St George Basin, Mt Trafalgar, Prince Frederick Harbour, the Hunter River, Donkins Hill Falls and the spectacular Mitchell Falls. The vast beautiful unspoilt coastline of the wilderness nature reserve is always a heart winner. You may even be lucky enough see crocodiles, dugong and whales. This is a flight over the most remote wilderness area in the world. This is the best way to see this country from the air, the rugged landscape with untouched coastline and tumbling waterfalls will stay in your memory forever. On return from our flight we travel the Gibb River Road and to  El Questro Station, a million acres of spectacular Kimberley scenery, rivers and gorges. Enroute we stop at a peaceful waterhole and view spectacular Wandjina and Bradshaw (Gion Gion) rock art. We travel country where some of the Australia movie scenes were filmed, and cross the mighty Pentecost River under the spectacular Cockburn Range. Overnight at El Questro Station. BL Dinner own cost at station restaurant.
| | | |
| --- | --- | --- |
| | | |
| Mt Trafalgar Spirit Safaris Kimberley tour | Mitchell Falls Kimberley Spirit Safaris tour | Remote Wandjina Rock Art |
Day 5 – This morning enjoy an pre breakfast swim or walk adjacent our accommodation by the Pentecost River. After breakfast relax in the warm waters of the tropical paradise amongst the Livingstonia palms trees at Zebedee hot springs.  This morning we also enjoy a walk and optional swim in one of El Questro's many fabulous gorges. After lunch by the riverside, enjoy  a cruise in the Chamberlain River Gorge and the view from Pigeon Lookout over the Pentecost River. We leave El Questro travelling adjacent the Cockburn Ranges and boab trees, having completed the Gibb River Rd, to arrive Kununurra for overnight. BLD
| | | |
| --- | --- | --- |
| | | |
| Windjana Gorge Kimberley Guardian | Bungle Bungles Echidna Gorge | Windjana Gorge Kimberley tour |
Day 6 – Depart 830 am to experience Kununurra, 'the eastern gateway to the Kimberley' and surroundings by air with a morning scenic flight over the renowned Ord Irrigation area, mighty Ord River Scheme and the enormous man made Lake Argyle before arriving at the Bungle Bungle where you transfer to an air-conditioned 4WD. On your short overland travels to Cathedral Gorge learn of the Bungles heritage and hear some of local nature's hidden secrets. Be amazed on your walk into Cathedral Gorge, where you will be surrounded by the Beehive Domes for which the park is so famous. Arrival into the gorge displays a magnificent amphitheatre designed by nature at its best. Relax in this shaded area and enjoy a memorable picnic lunch before returning on your walk to rejoin the 4WD. Travel to theBungle Bush Camp for afternoon tea then rejoin the aircraft to complete your afternoon scenic flight over the ancient Ragged Ranges and the Argyle Diamond Mine. Arriving back in Kununurra approx. 500 pm. Day includes easy to moderate 3 km walk into Cathedral Gorge via the Beehive Domes. On return, enjoy some free time relaxing by the lake or check out some art bargains. Overnight in Kununurra. Dinner own expense local restaurant. Fly to Darwin option.
Day 7 – Depart Kununurra via spectacular Victoria River mountain landscapes, travelling savannah cattle country, then Timber Creek, and on to the Stuart Highway and enjoy a stop in Katherine by the natural springs. Late afternoon arrive Darwin to your accommodation.  BL Optional flights to several major Australian cities which depart  Darwin late evening/ early am.
Day 8 – A free day to celebrate your journey. Enjoy a leisurely breakfast and the many sights or activities Darwin has to offer. Options include a trip to Kakadu or Litchfield National Parks, or simply shop or relax in Darwin's balmy climate. Tour ends after breakfast. Home Flights depart from Darwin or consider traveling with us to Alice Springs via Kakadu, Katherine Gorge, Lost City & Devils Marbles.
Tour Inclusions
Scenic Flight over Bungle Bungles & ground tour and walk in to Cathedral & Picanniny Creek

Mitchell Falls, Prince Regent iver & Reserve, Kings Cascades, St George Basin, Prince Frederick Harbour & western coastline on a 2 hour scenic flight from Drysdale
Cruise Chamberlain River Gorge at El Questro

Professional and experienced driver / guides

Long established relationships with local Aboriginal people enriches experiences

Access to remote areas and rock art sites unreachable by most tour vehicles

All accommodation, including last night in Broome

Delicious meals as shown , including vegetarian optional. Celebration dinner at journey end.

Accommodated sleeping or comfy camping – Your choice. Camp gear is modern and easy to use.

Optional Accommodation upgrades available if pre booked .

All World Heritage and National Park entry and accommodation fees

Aboriginal Art community visits for "direct from artist" purchases

Contributions of tour price supports Outback Kids and nature care programs.

You – and Your involvement in a creation much bigger than most can imagine
Exclusions
2 dinners own purchase in restaurants

Alcohol

Accommodation upgrades if required. Available all nights if pre booked

Flights to and from departure points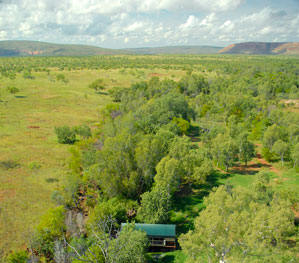 Kimberley Broome to Darwin Tour via Gibb River Road
with Mornington Wilderness Sanctuary & Mitchell Falls flight
Depart Broome 8 days/7 nights with extension option. Tour from Broome via Derby, Windjana Gorge, Tunnel Creek, Mornington Sanctuary, Galvins Gorge, Barnett River Gorge, Mt Barnett, Drysdale River Station, Mitchell Falls (flight), El Questro, Home Valley Station, Zebedee Hot Springs, BungleBungles with flight, Kununurra, Katherine to Darwin. Meet Aboriginal elders & artists, visit Wandjina and Bradshaw – Gwion rock art sites, swim in pristine waterholes on this Gibb River Rd by 4WD tour
8 Days / 7 Nights comfy camping rates – see booking page
Departure most Sundays – Check dates on website at Book Now or call
Booking Here or See rates & Availability