Kimberley Explorer Broome to Broome Tours 9 days
Kimberley Explorer Broome to Broome Tours 9 days via Gibb River Road  includes Lake Argyle cruise, Bungle Bungles (2N), El Questro (2N), Kununurra,  5 Rivers Lookout, Galvan's Gorge, Windjana Gorges & Tunnel Creek, plus exceptional extra Aboriginal Rock Art sites and Aboriginal Art Centres (Tour Code KBB9)   Check dates or Book

Enjoy spectacular Kimberley scenery and visit special Wandjina and Bradshaw (Gwion Gwion) art sites. Share this unique opportunity to learn ancient wisdom, recreating community and nature. Enriching and fulfilling experiences in the lands of the world's longest surviving culture. Experience incredible rock art galleries – learn about Aboriginal Lore, men and women's business, spirituality, bush medicines and food, language and history, ceremony, song and dance.
Included in 9 day Kimberley Bungle Bungle tours – KBB9
3 cruises – Included are Geike Gorge (at Fitzroy River Crossing) & Chamberlain Gorge at El Questro and  Lake Argyle
2 nights El Questro Wilderness Park for walks and Zebedee

3 Bungle Bungles walks
Details – Kimberley Kimberley Explorer Broome to Broome Tours 9 days
Day 1 – Depart from Broome travelling through vast Savannah grasslands to Willare on the Fitzroy River before we visit the infamous prison Boab tree. We join the Gibb River Road for mystical Windjana Gorge and a gorge walk at this special creation "waterhole". Meet the local freshwater crocodiles and exotic bird life (maybe even a rare Gouldian Finch) in this eerie, ancient seabed environment. Depart Windjana for Tunnel Creek & walk through this 600m cave river system to a special waterhole. We then travel through sweeping Kimberley grasslands and cattle country to cross the flood plains of the Fitzroy River. Check in at our accommodation at Fitzroy Crossing before a relaxing night and tasty evening meal, with a chance to meet some of the locals. LD
Day 2 – After breakfast enjoy a relaxing Darngku Geike Gorge river cruise on the vast Fitzroy River, and marvel at the high cliffs, annual flood records, stunning wildlife and river tales from our knowledgeable local guide. After a morning cuppa, and comfortable highway cruising we enjoy lunch at a scenic picnic spot. We take a look around Fitzroy Crossing whcih is an education and supply centre for surrounding cattle stations and Aboriginal communities. Our journey continues via Mesa & mountain country and we take a photo stop at the unusual Ngumban Cliffs, and a break at the scenic and bird lovers Marys Pool on the  Margaret River. Halls Creek is next with its gold mining history including the tale of Russian Jack, before the local Aboriginal Art Centre . Travel on to Maryvale Cattle Station and to the Bungles Bungles Safari Park for overnight. BLD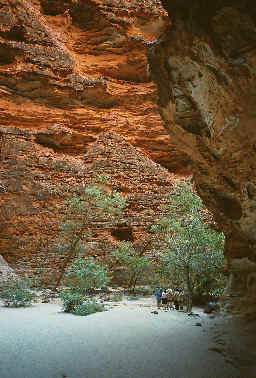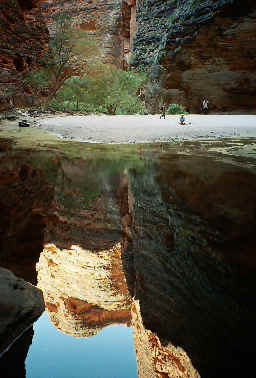 Day 3 – A day tour with heli flight option (recommended) in the Bungles Bungles in Purnululu National Park – Experience the extraordinary Bungle Bungles by 4WD. Marvel at this high energy amazing orange and black striped beehive landscape formed by giant river systems. Walk the spectacular Cathedral Gorge, Beehive Domes and Piccanninny Creek and after lunch a walk in Echidna Gorge. Optional scenic helicopter flight available.  Overnight Bungle Bungles Safari Park. BLD
Day 4 – Visit the Warmun Aboriginal Art Centre, then travel through spectacular rugged granite mountain ranges past the Argyle Diamond Mine for Kununurra highlights (Ord River Scheme, Sandalwood factory, Zebra rock art gallery) then relax with an optional swim and overnight at Lake Argyle. BLD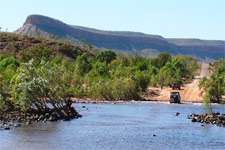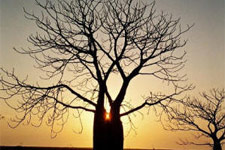 Day 5– Kununurra is a prosperous productive centre of mining, agriculture, tourism and Aboriginal art. We stock up here and check out the local Aboriginal art galleries before heading to Wyndham and lunch at Five Rivers Lookout over the spectcular Cambridge Gulf. After lunch its RAMSAR listed Parry's Lagoon (Marglu Billabong) for the rich wetlands bird life including Jabirus and Brolgas, and some quiet time in the Bird Hide.  Back onto the Gibb River Rd, to El Questro.  El Questro is a million acres of spectacular Kimberley scenery, rivers and gorges. Its here that the movie Australia was filmed, nestled under the Cockburn Ranges where we enjoy a relaxing evening and dinner at their fine outdoor restaurant. Overnight El Questro BLD
Day 6 – A Gorge walk to Emma Gorge sacred waterhole and a swim in the refreshing waters is available before we soak up the relaxing Zebedee hot springs, before exploring more of the El Questro treats including lunch by Jackaroos waterhole, another in the Pentecost at the station before a cruise on the Chamberlain River Gorge and viewing from Pigeon Lookout over the Pentecost River.  Overnight at El Questro resort. BL. Dinner at restaurant own expense.
Day 7 – Today we journey the the scenic and spectacular Gibb River Road via Cockburn Range, to cross the mighty Pentecost River and view from a high vantage point. We visit Home Valley Station and view Aboriginal rock art including Wandjina and Bradshaw's (Gwion Gwion). Take a break and enjoy the Durack River crossing. We take a left turn at the Kulumburu Road for a break at the Hann River, before arriving at Mt Barnett near Manning Gorge for overnight. BLD
Day 8 – After breakfast we head for Galvamn Gorge for an easy 1km walk, and swim in the beautiful secluded waterhole, then up over Phillips Range and a stop at Imitji store and community art centre. After lunch head for Bell Gorge for another waljk and swim in this very scenic spot with large waterfall. Retrun to nearby accommodation for overnight. BLD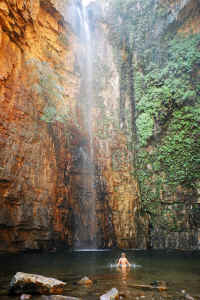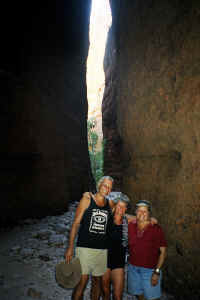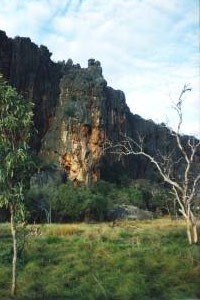 Day 9 – After breakfast our tour climbs the King Leopold Ranges and we travel through the picturesque Inglis Gap and King Leopold Conservation Park.  This is spectacular mountain country with impressive views over the ranges and vast woodlands and plains. We cross the Lennard River and pass through the ancient Devonian era Napier Range at Queen Victoria Pass. Enjoy a visit to the Mowanjum Aboriginal art centre (an opportunity to meet the artists, learn and buy from source) at Mowanjum Aboriginal Community, then visit the infamous prison Boab tree, and Derby highlights including the Derby wharf (30 ft tides!) on King Sound. Depart Derby for Broome to arrive late afternoon to enjoy sunset at Cable Beach over the Indian Ocean, and possibly an optional camel ride. After tasty treats on Cable Beach, we enjoy a meal overlooking the beach before overnight in Broome. BLD
Inclusions
Small group in modern 4 wheel drive vehicles
Professional and experienced driver / guides
Lake Argyle cruise
Long established relationships with local Aboriginal people enriches experiences
Access to remote areas and rock art sites unreachable by most tour vehicles
All accommodation, including first and last nights in Broome
Delicious meals, including vegetarian, unless noted in itinerary. Celebration completion meal.
All camping gear which is modern and easy to use
Comfortable sleeping options (self inflating mattress or stretcher). Bring your bedding or available from us.
Guided cruises of Geike Gorge and Fitzroy River, and Chamberlain River Gorge
All World Heritage and National Park entry and accommodation fees
Aboriginal Art community visits for "direct from artist" purchases
Contributions of tour price supports Outback Kids and nature care programs.
A knowing that you are co-creating Australia's future.
Exclusions
Helicopter flights at Bungle Bungles – Approximately $285 for an 18 minute flight or longer options.
1 Dinner at El Questro (1 included) restaurants. Alcohol
Accommodation upgrades if required. Available all locations if booked early.
Flights to and from departure points.
Kimberley Explorer Broome to Broome Tours 9 days
via Gibb River Road (CodeKBB8)  includes Lake Argyle cruise,  Bungle Bungles (2N), El Questro (2N), Kununurra,  5 Rivers Lookout, Galvan's, Windjana Gorges & Tunnel Creek, plus exceptional extra remote Aboriginal Rock Art sites and Art centres
9 days/ 8 nights – AUD $ 5480 Comfy camping rate. For 8 nights accommodation upgrade add $1150 per person (twin or double share).  Single supplement $995.
9 Days / 8 Nights – BOOK NOW
SAVE Up to $ 1000 per couple if paid in full by November 30, 2016