Pilbara Karratha Karijini Tours
Pilbara, Karratha, Karijini National Park Tours
Tours from Broome, Port Hedland & Karratha
Pilbara, Karijini, Karratha & Marble Bar Tours – 6 Days or 8 or 11 days (see below)

Tour A – Pilbara, Karijini National Park, Karratha & Marble Bar Tours from Broome (6 days), Port Hedland & Karratha – includes 3 days in Karijini National Park to explore amazing gorges, walks & waterholes & optional Tom Price or Newman mine tour, 1 night Port Hedland, 1 Marble Bar. 6 days/ 5 nights from Broome return to Broome or exit Port Hedland – Fully catered, comfy camping or or accommodated. Fully catered delicious meals, fully accommodated in motels & Karijini Eco Retreat  Departs Mondays May to October  BOOK NOW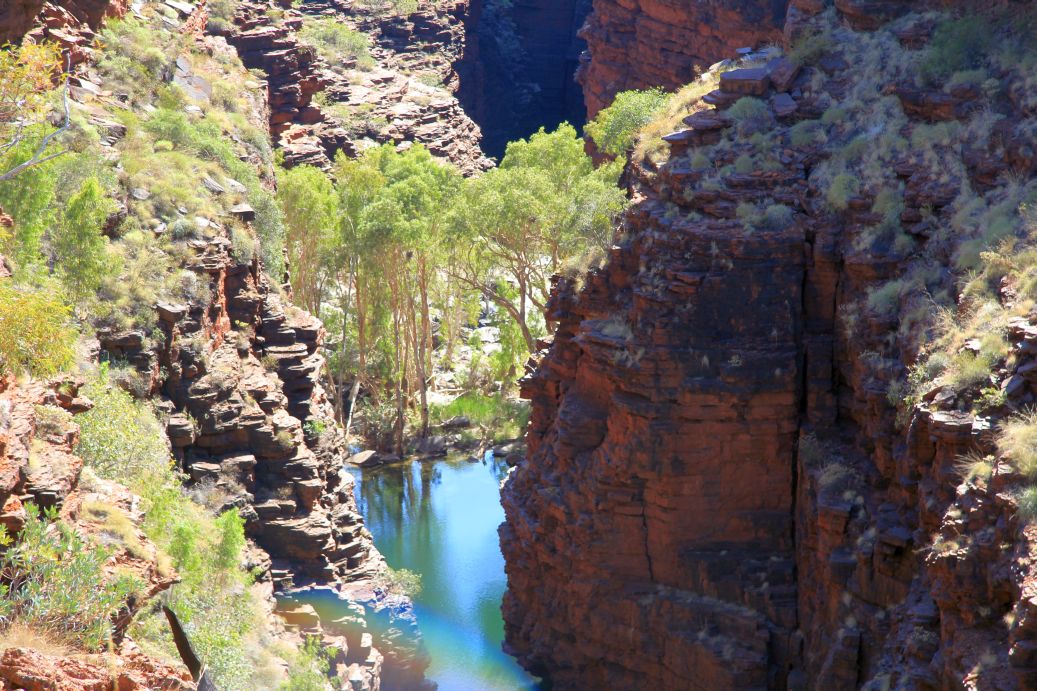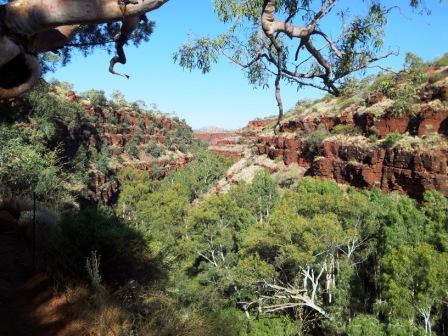 ---
Details of Pilbara, Karijini, Karratha & Marble Bar Tours – 6 Days
Pilbara, Karijini National Park, Karratha & Marble Bar Tours from Broome, Port Hedland & Karratha – includes 3 days in Karijini National Park to explore amazing gorges, walks & waterholes & Tom Price or Whaleback Newman mine tour, nights in Port Hedland, Karratha, Marble Bar & Karijini Eco Retreat. Details – Arrive the day before to enjoy Broome, a Cable Beach swim and dinosaur footprints at Gantheaume Point tide permitting. Tour commences Sunday and we travel the Northern Highway through extensive cattle country to Port Hedland. Travel through cattle country on the edge of the Great Sandy Desert, Sandfire and visit 80 Mile Beach. Next day visit the Port Headland docks, Burrup / Dampier Peninsula rock art – World's largest collection of petroglyphs, and the Red Dog memorial before overnight in Karratha. Day 3 we travel and picnic in Millstream National Park, through the Hamersley Ranges, travel the special access Hamersley Iron / Rio Tinto Railway Road to Tom Price Mine (lookout viewing) before Karijini Eco Retreat for overnight. Experience awesome gorges of Karijini National Park views, walks & swim options. Visit the Marble Bar plus Comet Gold Mine for gems and minerals.  Depart Karijini late morning and travel the Great Northern Highway and 4WD back roads to Marble Bar & the Comet Gold Mine with gems and minerals displays. Overnight Marble Bar. Last day depart viewing the mighty De Grey River, Pardoo & Sandfire. Arrive Broome early evening or exit tour at Port Hedland (approx.11am) for flights or coach etc. 6 days / 5 nights fully catered delicious meals, cost including mine tour  6 day $4,350 or 5 day $3,880 pp. Sgl Sup. $495 (6day) or $395 (5 day)
Usually Departs Mondays May to October  Other dates Available – Ask for details   Book NOW & Save
Above tour Departs Mondays May to October Ask for details Book NOW & Save
West Coast Pilbara Karratha Karijini Explorer 4WD Tour – 8 or 11 days
Tour B – Departs October 4,  2015 – West Coast Pilbara Karratha Karijini Explorer 4WD Tour to Perth, Alice Springs or Adelaide from Broome, Port Hedland & Karratha – From Broome, Port Hedland or Karratha to Kalgoorlie, Nullarbor & Adelaide (or to Perth option or Alice Springs options) via West Coast WA, Pilbara, Karratha, (Burrup / Dampier Peninsula Rock Art, Karijini NP, Rio Tinto Mine at Tom Price, Newman, Kalgoorlie, (Perth options), Nullarbor Caiguna, Eucla, Ceduna, Streaky Bay to Adelaide Option to exit tour earlier to Perth (& other cities) – ie fly from Kalgoorlie 12 Oct (or Newman on 10 October) Book NOW & Save

| | | | |
| --- | --- | --- | --- |
| | Day | Overnight | Daily Highlights |
| | 0 | Start Broome WA | Arrive in Broome for Cable Beach swim and dinosaur footprints at Gantheaume Point tide permitting |
| * | 1 | Port Headland | Barn Hill Beach sculptures & 80 Mile Beach, Port Hedland, |
| * | 2 | Karratha | Port Headland docks, Burrup / Dampier Peninsula rock art – Worlds largest collection of petroglyphs, Red Dog memorial |
| * | 3 | Karijini NP | Millstream NP, Hammersley Range, Pilbara Iron Railway Rd to Tom Price mine, Karijini Eco Retreat |
| * | 4 | Karijini NP | Awesome gorges of Karijini National Park views, walks & swim options |
| * | 5 | Newman | More Karijini gorges, Mt Newman, Collier Range NP |
| * | 6 | Meekatharra | Mt Newman mine tour, Collier Range NP |
| * | 7 | Kalgoorlie | Sandstone pioneer region, Rabbit Proof Fence, Gold Trail, Leonora |
| * | 8 | Cockebiddy | Kalgoorlie & gold mines, Norseman, or fly to Perth from Kalgoorlie option |
| * | 9 | Nullarbor Roadhouse | Nullarbor Plain, Telegraph Stations, The 90 Mile Straight, WA/SA border, 4th time zone |
| * | 10 | Streaky Bay | Whale watch, Head of the Bight (the Great Australian Bight), coastal cliffs, |
| * | 11 | Adelaide | Streaky Bay whale watch, Spencers Gulf, Iron Knob, Port Augsuta, Adelaide for own accom or flights |
Tour cost including all National Park entries, permits, professional driver & guide, all meals and motel style accommodation as available – 5 days/ 5 nights to Newman is $3580 or 6 days / 6 nights to Kalgoorlie is $3,990 or 11 days / 10 nights to Adelaide is $6,990. Camping option is less – please ask.
The Tom Price Rio Tinto Mine – The Mount Tom price mine is owned by Rio Tinto / Hamersley Iron and operated by Pilbara iron. The mine was developed in 1966, and is a massive ore body eight kilometres long and more than one kilometre wide. In 2004 the mine moved over 45Mt of material, and produced over 18Mt of iron ore.
Who was Tom Price – The town was named after Thomas Moore Price, who worked for the American company, Kaiser Steel. He arrived in the area in the early 1960's to appraise deposits of ore and was instrumental in convincing the mining companies that it was worth mining here. He also played a major role in lobbying the State & Federal Governments to allow mining to proceed and for the ore to be exported. In September 1962 at the age of 71. Thomas Moore returned to America. He died from a heart attack whilst at his desk, only two hours after being advised of the very rich ore deposit discovered on the mountain here. In recognition of Thomas Moore Price and his efforts during the foundation of the industry, the mountain and our town, Tom Price was named after him.
Gina Rinehart, via the company (Lang) Hancock Prospecting, shares 50 per cent of the profits (around $1.5 billion) generated by the Hope Downs mine, which is operated by Rio Tinto and produces 30 million tonnes of iron ore annually. Another joint venture with Mineral Resources Limited at Nicholas Downs, northwest of Newman, is producing 500 million tonnes of ferruginous manganese. The Roy Hill iron ore project, south of Port Hedland, in the Pilbara is expected to begin production in 2013 with a yield of 55 million tonnes a year.
Join us on this tour in the Pilbara to better understand Australia's & your future !!! – Please ASK or Book Tour 
The team at Spirit Safaris will get you there safely and swiftly, with plenty of time for fun and exploring these amazing
places.
Our modern Toyota Landcriuser 4WD vehicles means you travel in small private groups in comfort to access areas others can't reach.
See latest Travel Updates

Ask Now on 1300 763 188 for tours information or to reserve your place – thank you & stay tuned !