Kimberley Darwin Broome Katherine Gorge
Litchfield Tours
Kimberley Tours via Litchfield, Katherine Gorge, Lake Argyle
Plus El Questro Wilderness Park, Bungle Bungles,
Horizontal Waterfalls Flight 
13 Day Tour – Darwin to Broome  or reverse Broome to Darwin Tours
with 3 cruises and 2 flights  including Horizontal Falls & Mitchell Falls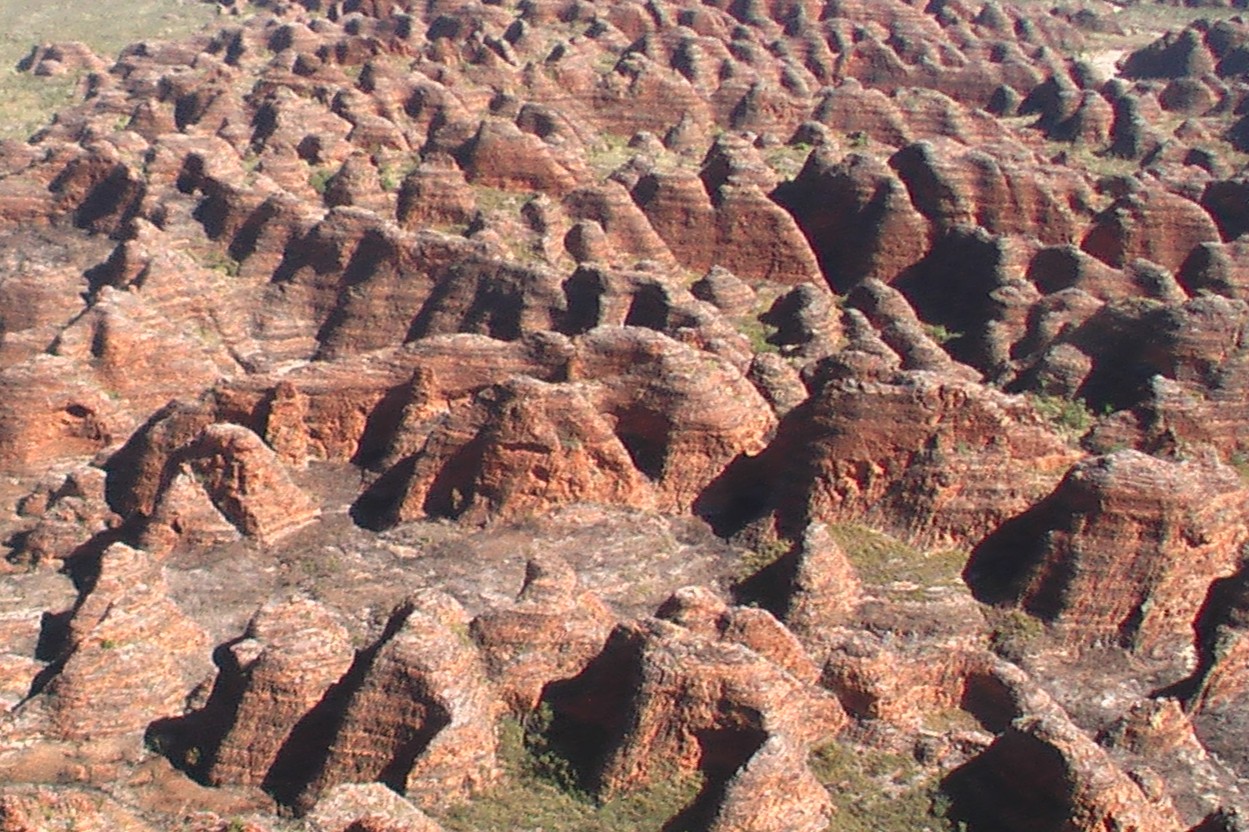 Tours Depart Sundays May to September 2016
Darwin to Broome or Broome to Darwin

Check Availability or  Book Tour
or Ask for details on 1300 763 188
Day 1 – Depart Darwin to explore  Litchfield National Park, one of the Territory's major attractions. View spectacular featur es such as Magnetic Termite Mounds towering on the grassland plains, and majestic waterfalls. Discover numerous permanent waterfalls such as Tolmer, Wangi and Florence Falls and watch as they cascade from the sandstone plateaus of the Tabletop Range to create beautiful swimming holes throughout the park. You have the opportunity to swim, and take photographs of beautiful Buley Rockhole, before lunch. We travel via Adelaide River for Pine Creek, an historic gold mining and railway town significant to Northern Territory development. Enroute we pass numerous World War II airfields critical to the defence of Australia in WWII. Adelaide River is where Crocodile Dundee's downed water buffalo resides in a local bar. Day finishes in Katherine at approximately 5.30pm. Overnight Katherine.  L,D
| | |
| --- | --- |
| |   |
| Bungle Bungles Beehives Kimberley Tour | |
This morning we take the short drive to Nitmiluk National Park to enjoy a 2 hour (or optionally more) river cruise in spectacular Katherine Gorge. Options also for helicopter flight to 13 remote gorges and Aboriginal rock art sites, or a canoe hire and paddle on the Gorge ! After lunch, we travel westward on the Victoria Highway (part of the Savannah Way) and pass through rich cattle country and spectacular rugged mountain landscapes through Gregory National Park to Victoria River and Timber Creek for overnight at this relaxing riverside stop. BLD
| | |
| --- | --- |
| | |
| Florence Falls & Buley Rockhole Litchfield National Park | Cruise Katherine Gorge – Kimberley Top End Tour |
Day 3 – We take time out to view this mighty Victoria River ascend a local lookout to view this spectacular country escarpments and Stokes Range. Time permitting we detour via Keep River National Park to view Aboriginal rock art before crossing the NT/WA state border and arrival at Lake Argyle. Enjoy a sunset cruise on the Lake after camp set up, and a lazy evening relaxing by the lake shore. Overnight by the side of Lake Argyle. BLD
Day 4 – After a hearty breakfast we depart for Kununurra where we stock up with fresh Ord River scheme fruit and veg and can enjoy the many attractions here including Zebra rock & Aboriginal Art galleries, Sandalwood plantations and a local rum distillery. We travel on through spectacular rugged mountain landscapes via Doon Doon to Turkey Creek then Warmun art centre. You can meet the artists here, and find some bargain art. After lunch we arrive at the Bungle Bungles (Purnululu National Park) for our overnight camp or alternative accommodation if arranged. BLD
Cathedral at Bungle Bungles Kimberley WA
Cathedral
Reflections Kimberley WA
Day 5 – Marvel at this high energy amazing orange and black striped beehive landscape formed by giant river systems. Walk the spectacular Cathedral Cave, Piccanninny Creek and after lunch a walk in Echidna Gorge. Optional scenic helicopter flight is recommended. Sunset viewing over this stunning landscape before a hearty meal and overnight camp in the Bungle Bungles. BLD
Day 6 – Five Rivers Lookout and Wyndham are calling, then Parry's Lagoon for the rich wetlands bird life including Jabirus and Brolgas. We enter the Gibb River Rd, and view somee spectacular rock art, before arriving at El Questro  Wilderness park.  El Questro is a million acres of spectacular Kimberley scenery, rivers and gorges. Its here that the movie Australia was filmed, nestled under the Cockburn Ranges. Late afternoon we relax by the river at our El Questro Station homestead riverside camp (2 nights) BLD
Day 7 – This morning soak up the relaxing Zebedee hot springs, before exploring more of the El Questro treats   including El Questro and Moonshine Gorges, a cruise in the Chamberlain River Gorge and viewing from Pigeon Lookout over the Pentecost River.  Overnight at El Questro. BL. Dinner at restaurant own expense.
Mt Trafalgar Spirit Safaris
Kimberley tour
Mitchell Falls Kimberley Spirit Safaris tour
Remote Wandjina Rock Art
Day 8– Today we journey the the scenic and spectacular Gibb River Road via Cockburn Range, to cross the mighty Pentecost River and view from a high vantage point. We stop at Home Valley Station before viewing some Aboriginal rock art including Wandjina and Bradshaw's. Enjoy lunch at a bird lovers billabong. We take a right turn at the Kulumburu Rd, and stop at the famous working cattle station, Drysdale River Station for overnight. Enjoy a cool drink at the bar and there's always news to catch up with here, and some tall tales from travellers and locals at this remote Kimberley cattle station. BLD
 Day 9 – From Drysdale Station, we take a 2 hour scenic flight viewing Mt Hann, Deep Gorge and the Rift, then over the magnificent Prince Regent Nature Reserve. We follow the Prince Regent River, fly over numerous unnamed waterfalls, King Cascades, St George Basin, Mt Trafalgar, Prince Frederick Harbour, the Hunter River, Donkins Hill Falls and the spectacular Mitchell Falls. The vast beautiful unspoilt coastline of the wilderness nature reserve is always a heart winner. You may even be lucky enough see crocodiles, dugong and whales. This is a flight over the most remote wilderness area in the world. This is the best way to see this country from the air, the rugged landscape with untouched coastline and tumbling waterfalls will stay in your memory forever. On return we travel south on the Gibb River Rd to cool off at Barnett River Gorge, cross the Gibb and Manning Rivers to Mt Barnett. Enjoy a swim of relax at the easy to access and picturesque Galvins Gorge with more rock art, great scenery and good swimming and photos too! Refreshed, we arrive at Mornington Wildlife Sanctuary for our overnight stop. You can join Mornington's Naturalist Guide (pre booking recommended) for a complimentary talk/slideshow for an insight into the work of the Australian Wildlife Conservancy and the unique values of Mornington Wildlife Sanctuary. Also, browse the Interpretive centre displays and find information on research and conservation activities at Mornington. A good selection of reference and ID books are also available. BLD
 Day 10 – Enjoy an easy access early morning walk along Annie Creek if you choose, before our spectacular 4WD journey to either nearby gorge. Dimond Gorge is beautiful. Majestic geological formations area a highlight and the view from the lookout at Dimond Gorge is very special. The drive to Sir John Gorge takes you through undulating savannah formed over the millennia from the erosion of the Leopold Sandstones and the breakdown of volcanic ridges. It is a 1 hour drive (14km). The destination itself is a massive thoroughfare of the Fitzroy River that started to carve its way through the sandstone while life on earth was still in its infancy. Mornington Sanctuary covers more than 3,000 square km of spectacular gorges and tropical savannah dominated by the Fitzroy River and King Leopold Ranges. Owned and managed by the non-profit Australian Wildlife Conservancy. Our wilderness camp base is a naturalist's paradise, providing refuge for over 200 species of birds and a diverse range of other wildlife. All proceeds from the Wilderness Camp are dedicated to the conservation of wildlife in the Kimberley. After lunch, we travel on via Imitji Aboriginal community before an afternoon walk in Windjana Gorge with the abundant wildlife and numerous freshwater crocodiles in this eerie, ancient seabed environment. Overnight Windjana Gorge. BLD
 

Tunnel Creek Kimberley WA

Windjana Gorge Kimberley
Tunnel Creek Kimberley
Day 11 – Enjoy an early morning walk in Windjana Gorge before we travel the scenic and short distance to nearby Tunnel Creek, where we walk through this 600m long underground river system to a hidden waterhole. Our day includes a tasty picnic lunch and optional swim in the waterhole before we call in to the new Mowanjum Art Centre (meet the artists, opportunity to buy art from source) at the Mowanjum Aboriginal Community. We visit the famous Derby wharf with the 30ft (10 m) tides on the southern shores of King Sound. Overnight Derby BLD
Horizontal
Waterfalls Kimberley Spirit Safaris Tour
Horizontal
Waterfalls Kimberley Spirit Safaris Tour
Horizontal
Waterfalls Kimberley Spirit Safaris Tour
Day 12  – Our Horizontal Water falls flight adventure departs from Derby approximately 815am. The flights track via the Dampier Peninsular where you will connect with an air conditioned prop jet seaplane and guarantees the best possible viewing of the Buccaneer Archipelago. Connect with your air conditioned Prop Jet Seaplane for the flight across the Buccaneer Archipelago to the Horizontal Falls, with a spectacular Seaplane landing on the calm waters of Talbot Bay. Transfer to a FAST BOAT and hang on tight while the experienced skipper takes you through the Falls. After these thrillsit's time to sit back and relax as you cruise through the  spectacular untouched surrounding bays and creeks on board a custom built creek cruising vessel. Enjoy a cooked lunch on board as you take in the breath taking scenery and enjoy a guided Fishing Tour (all gear supplied). If game, you can  experience the thrill of swimming in a huge "Croc/Shark free" cage and feed the friendly fish. On departure, enjoy a scenic air tour through the spectacular and majestic surrounding bays. Arrive back at Derby approx 230 pm ready for the drive to Broome. On the way, see some of the biggest and oldest Boab trees in the Kimberley, including the infamous Prison Boab Tree. We arrive Broome and Cable Beach in time for the spectacular sunset over the Indian Ocean. After tasty treats on Cable Beach, we enjoy a meal at a local restaurant before overnight in Broome. BLD
Day 13 – A free day to celebrate with a morning swim and breakfast at Cable Beach before flights home, or visit the Willie Creek Pearl Farm, or simply shop or relax in Broome's balmy climate. Tour ends after breakfast. Home Flights depart from Broome or consider  travelling with us to Alice Springs via the Tanami Track, Wolfe Creek Crater and art centres. B
Cable Beach Broome

Cable Beach Sunset Broome

Windjana Gorge
Kimberley tour
Become part of the re-creation of country and culture. Discover new understandings from times beginning. This is a small group adventure learning journeys … connecting and re-creating with the land and locals.

Inclusions –
Small boutique group in modern 4 wheel drive vehicles – Landcruisers or similar

Professional and experienced driver / guides

2 hour cruises on Katherine Gorge, Chamberlain Gorge & Lake Argyle
Horizontal Water Falls flight
Long established relationships with local Aboriginal people enriches experiences
Experience the high energy of rock art, sacred sites and songlines
All delicious meals, including vegetarian, unless noted in itinerary.
All camping gear which is modern and easy to use
Comfortable sleeping options (self inflating mattress or stretcher). Bring your bedding or available from us.
All World Heritage and National Park entry and accommodation fees
Aboriginal Art community visits for "direct from artist" purchases
Contributions of tour price supports Outback Kids and nature care programs.
Learn practical skills –

Bush foods & medicine and survival skills for self and team survival and thrival
Camping, tent, food health & safety
Rock art symbols guide / earth energy connection

You – and Your involvement in a creation much bigger than most can imagine
 'If you respect the land, then you will feel the land. Your experience will be one that you cannot get anywhere else in the world.' Brian Baruwei – Wurrkbarbar clan. Aboriginal traditional owner
Darwin to Broome or Broome to Darwin – via Katherine Gorge, Litchfield National Park, El Questro Wilderness Park, Bungle Bungles, Gibb River Rd, Horizontal Waterfalls, Kakadu option.
Kimberley & Top End via Gibb River Rd

– 13 Days / 12 nights  –

Broome to Darwin 

via Katherine Gorge, Litchfield National Park water falls, Lake Argyle, El Questro Wilderness Park, Bungle Bungles, Gibb River Rd,

3 cruises and 2 flights including 

Horizontal Waterfalls & west coast flight –  Check Availability or Book Tour 


 Kimberley & Top End via Gibb River Rd – 13 Days / 12 nights  – Darwin to Broome via Katherine Gorge, Litchfield National Park water falls, Lake Argyle, El Questro Wilderness Park, Bungle Bungles, Gibb River Rd, 3 cruises and 2 flights including Horizontal Waterfalls & west coast flight –  Check Availability or Book Tour  13 days/ 12 nights – AUD $ 6,995 including 2 flights & 3 cruises. For 9 nights  accommodation upgrade add $995 per person twin or double room. Single supplement $890 – Other options available – Please ASK
13 days/ 12 nights – Including 2 flights & 3 cruises, Deluxe camping rate is AUD $ 7,995. For 9 nights accommodation upgrade add $995 per person (twin share). For 12 nights accommodated add $1980 per person. Ie $9975.
Note price includes Horizontal Seaplane day tour from Derby valued at $795. Deduct this if preferred.