Sydney to Adelaide Tours
From Sydney to Adelaide Tours via Mungo National Park, Broken Hill, Wilpena Pound, Flinders Ranges, Barossa Valley, Adelaide
Lake Eyre flights options
6 Days / 5 Nights  or 8 days option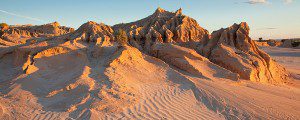 walk the Lake Mungo Walls of China
Day 1 – Depart from Sydney – travelling via Canberra, the famous "Dog on the Tucker Box" over the Great Dividing Range to Wagga Wagga, and on to Hay on the edge of the Murrumbidgee River, and in the Heart of the Murrumbidgee Irrigation Area. Learn about Australia's food bowl, the Murray-Darling Basin. Enjoy a hearty local meal and overnight in a county motel. LD
Day 2 – Visit the Shearers Hall of Fame in Hay and learn of the rich life in the wool industry in early NSW. We travel the western plains to enter the ancient lakes areas of the Murray River to Mungo National Park. See evidence of giant wombats (Diprotodon), Tassie Tigers and Australia's megafauna who roamed this ancient land. Enjoy sunset over Lake Mungo as we relax with the local kangaroos at our camp or photograph some great sunset shots over the lake. BLD
Mungo National Park is a part of the Willandra Lakes World Heritage Area, a chain of dried-out lakes that were once strung between Willandra Creek and the main channel of the Lachlan River in Outback NSW. Lake Mungo dried up around 14,000 years ago, and today a great crescent-shaped dune, called the Walls of China, stretches along the eastern shore of the lakebed. These dunes, of mud and sand, are continually eroding by wind and water. Left behind is a fragile landscape of crinkled, fluted outcrops and shifting sand, which changes colour from a daytime khaki to the vibrant yellows, oranges, and deep wine reds of sun set. Stone flake tools are scattered across the landscape, and peeking out of the mud are ancient wombat holes, fossilized chunks of Eucalyptus trees, and the bones of long-dead marsupials, including extinct buffalo-sized wombats and giant
kangaroos.

Day 3 – We tour the Mungo Lake circuit and meet our Aboriginal guide for a local view of Mungo life. After lunch we head for Menindee lake via Pooncarie, following Australia largest river , the Darling. These lakes are now filling with water from
recent rains, and attracting amazing birdlife and new plant life as the desert blossoms. We enter the Kinchega National Park, home of the Menindee Lakes and enjoy some great photos opportunities of this unique environment. Afternoon arrive Broken Hill for local sites, art centres (mine tour option), and Silverton at sunset. Silverton has a variety of 19th-century buildings, some restored as museums and art galleries. The town has attracted film-makers for decades with the circa 1880 Silverton Hotel and surrounds being used for Australian productions such as "Mad Max 2", "A Town Like Alice" and "Dirty Deeds". The dramatic natural scenery and changes of light and colour have also made the area popular with artists and many of the so-called Brushmen of the Bush paint and sell their art in Silverton. This evening explore the silver city of Broken Hill. BLD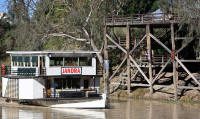 Day 4 – Depart Broken Hill to visit the Sculptures in the Desert display before we cross the border into South Australia. We travel saltbush desert areas then wheat and wool country via historic Burra, and on to the remote rural and railwayjunction town of Peterborough. Enjoy the spectacular scenery of the Flinders Ranges before an optional sunset scenic flight over Wilpena Pound (20 mins $145) before some great outback hospitality and a hearty meal in the Wilpena Pound Resort. BLD
Day 5 – Take an optional early morning flight or enjoy a walk in Wilpena Pound with the magnificent River Red Gums and scenic Flinders Ranges. Visit stunning Aboriginal rock art before we travel via ranges scenery to Barossa Valley for wine tasting in this picturesque area. Enjoy tasty treats at local vineyards before overnight in the Barossa Valley. BL

Day 6 – Today 3 options available….
1. Stay on in the Barossa Valley and return to Adelaide at your leisure, by rail or local transport (1.5 hrs)
2. Join our early departure (7am) for Adelaide and tour completion. In Adelaide you are in easy access to visit the Pandas, and numerous winery tours of Hahndorf are in easy reach, being only half an hour away.
3. Another option is to join our 3 day Lake Eyre tour and flight which returns to Adelaide evening of 26 April. You can stay in Barossa this morning and we collect you approximately 10 am. Lake Eyre tour includes Oodnadatta Track, Marree, Leigh Creek, travel via Flinders Ranges, flight over Lake Eyre, and return to Adelaide. Easy and low cost flight options to Sydney are available.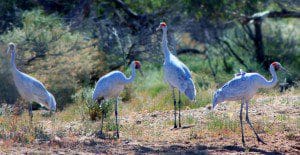 Day 6 Extended – Travel on via spectacular mountain scenery adjacent the Flinders Ranges. Travel through rural SA and enjoy picturesque roadside stops for lunch and a morning and afternoon teas with local hospitality. Visit historic Beltana,
Parachilna and Brachina before arrival at our cosy overnight stop at Leigh Creek. BLD
Day 7 – Arrive in Marree and check out the ancient mosque and Ghan railway history. From here we take a 1 1/2 hourscenic flight over Lake Eyre. We visit the shores of Lake Eyre National Park and connect with the wonder of the bird and
plant life revitalised by recent flooding rains. We visit a permanent water hole by Muloorina Station, a favourite spot for birds (including brolgas) and birdwatchers. Overnight Marree and a few yarns around the campfire. BLD
Day 8 – Today we view the giant Leigh Creek coal mine, and return travel in the foothills of the Flinders Ranges via old Ghan railway towns. Visit Brachina Gorge and picturesque mountain landscapes to arrive Adelaide late afternoon. . In Adelaide you are in easy access to visit the Pandas, and numerous wineries tours of Hahndorf are in easy reach, being only half an hour away. Overnight in Adelaide (own arrangements or ask us) then leisurely time before flights home. BL
Tour Inclusions
• Small group luxury 4WD travel (4-6 / vehicle) with professional and experienced driver / guide
• On lake Eyre component – Scenic Flight over Lake Eyre
• Delicious meals, including vegetarian
• All National Park entry and accommodation fees, hotel pickups
• Contributions of tour price supports Outback Kids and nature care programs.
• You – and Your involvement in a creation much bigger than most can imagine
6 day Tour ends Barossa Valley or Adelaide includes, luxury 4WD transport, motel accommodation Hay, comfy camping elsewhere or 3 nights hotel upgrade (Broken Hill, Wilpena Pound, Barossa valley) add $280. All meals except Barossa dinner. $1,850 Tour Code MEB.
8 day Tour with Lake Eyre ends Adelaide includes luxury 4WD transport, motel accommodation Hay, comfy camping elsewhere or 5 nights hotel upgrade (Broken Hill, Wilpena Pound, Barossa valley, Copley/ Leigh Ck, Maree) add $520 twin share. All meals except Barossa dinner. $2,750 Tour Code MEA
Book Now Call 1300 763 188